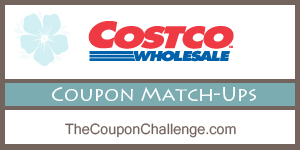 Costco Warehouse Store Coupon Matchups are done! Please visit the new Costco coupon matchups page for a complete list of deals! Let me know what else you find or if you have corrections!
Does not accept manufacture coupons
Accepts Costco Store coupons
Must have a Costco Membership Card to shop
Costco Coupon Booklet – Prices valid 6/1 – 6/25 and may vary by store.
Beverages
Starbucks French Roast Whole Bean Coffee, 2.5 lbs – $19.99
$4.50/1 Starbucks French Roast Whole Bean Coffee – Costco Monthly Booklet Coupon (Valid from 6/1/17); Includes 2.5 lb Only; Limit 6 (exp. 06/25/17)
Final Price: $15.49
Breakfast & Cereal
Kellogg's Frosted Mini-Wheats, 2 ct 35 oz boxes – $7.98
$2.50/1 Kellogg's Frosted Mini Wheats – Costco Monthly Booklet Coupon (Valid from 6/1/17); Includes 70 oz Only; Limit 6 (exp. 06/25/17)
Final Price: $5.48
Condiments, Spice & Baking
Ocean Spray Craisins, 64 oz – $8.89
$4.00/1 Ocean Spray Craisins – Costco Monthly Booklet Coupon (Valid from 6/1/17); Includes 64 oz Only; Limit 2 (exp. 06/25/17)
Final Price: $4.89
Cookies, Snacks & Candy
Nature Valley Sweet & Salty Nut Granola Bars, 48 ct – $12.65
$3.80/1 Nature Valley Sweet & Salty Peanut Granola Bars – Costco Monthly Booklet Coupon (Valid from 6/1/17); Includes 48 ct Only; Limit 4 (exp. 06/25/17)
Final Price: $8.85
Dairy
Dannon Oikos Triple Zero Greek Yogurt Variety Pack 18 ct, 5.3 oz – $12.99
$4.00/1 Dannon Oikos Triple Zero Greek Yogurt Variety Pack – Costco Monthly Booklet Coupon (Valid from 6/1/17); Includes 18/5.3 oz Only; No Limit (exp. 06/25/17)
Final Price: $8.99
Home Supplies
Duracell Alkaline Coppertop Batteries, 32 ct AAA – $14.99
$3.00/1 Duracell Alkaline AAA Batteries – Costco Monthly Booklet Coupon (Valid from 6/1/17); Includes 32 ct Only; Limit 5 (exp. 06/25/17)
Final Price: $11.99
Finish Max in One Plus Dishwasher Tabs, 110 ct – $24.99
$4.00/1 Finish Max in 1 Plus Dishwashing Detergent – Costco Monthly Booklet Coupon (Valid from 6/1/17); Includes 110 ct Only; Limit 5 (exp. 06/25/17)
Final Price: $20.99
Kleenex Cottonelle Ultra Bath Tissue, 45/ 225 sheets – $16.99
$16.99 Sale Price Cottonelle Ultra Bath Tissue – Costco Monthly Booklet Coupon (Valid from 6/1/17); Includes 45 pk/225 Sheets Only (exp. 06/25/17)
Final Price: $16.99
Tide Advanced Power HE Liquid Laundry Detergent with Acti-Lift, 170 oz or 81 loads – $21.89
$4.50/1 Tide Advanced Power HE Detergent – Costco Monthly Booklet Coupon (Valid from 6/1/17); Includes 170 oz 81 ld Only; Limit 2 (exp. 06/25/17)
Final Price: $17.39
Personal Care
Q-Tips, 3 pk 625 ct – $8.99
$2.50/1 Q-Tips – Costco Monthly Booklet Coupon (Valid from 6/1/17); Includes 3/625 ct Only; Limit 2 (exp. 06/25/17)
Final Price: $6.49