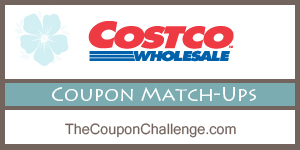 Costco Warehouse Store Coupon Matchups are done! Please visit the new Costco coupon matchups page for a complete list of deals! Let me know what else you find or if you have corrections!
Does not accept manufacture coupons
Accepts Costco Store coupons
Must have a Costco Membership Card to shop
Everyday Price Guide
Prices may vary by store.
Multi-Item Deals
Bounce Dryer Sheets, 260 ct – $8.39
Bread & Bakery
Tortillas, 6 in, 40 ct – $3.19
Canned Goods & Soups
Black Beans, Canned, 8 pk 15 oz ea – $5.79
8 pk = $0.73 unit price
Frozen Foods
Broccoli Florets, Organic, Frozen, 4 lb – $5.99
4 lb = $1.50/lb unit price
Mixed Veggies, Organic, 5 lb pkg – $5.59
5 lb = $1.12/lb unit price
Home Supplies
Kirkland Garbage Bags, 200 ct – $14.59
Kirkland Signature Ultra Soft Bath Tissue, 30 ct 231 sheets – $14.99
Ziploc Sandwich Bags, 500 ct – $8.99
Meat, Poultry & Fish
Chicken Breast, Boneless, Skinless, Organic, per lb – $5.99
Chicken, Whole, Organic, per lb – $2.29
Ground Beef, 5.5 – 6 lb – $17.00
Produce
6 pk = $1.17 ea unit price
Spinach, Baby, Organic, 16 oz – $3.79
Spring Mix Organic Salad, 16 oz – $3.99