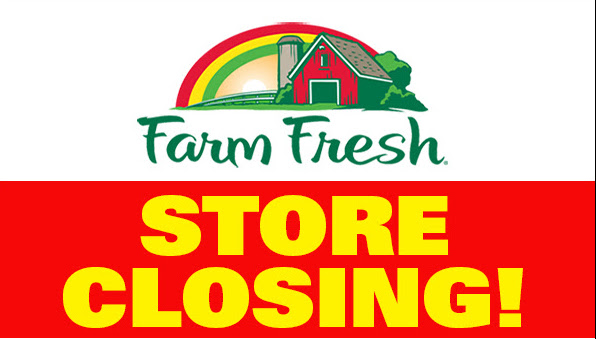 As you are all aware, many Farm Fresh locations are being liquidated. The following Farm Fresh stores are closing and liquidation sales started March 26, 2018.
The current markdowns are up to 40% off, excluding pharmacy.  However, please note that reportedly not everything has been marked down 40% off.
Freebie Friday offers have stopped as well as e-coupons through the Farm Fresh website.  Many of these stores are still accepting coupons, but no longer doubling.
The following stores are closing.  I have made notes about the current sale and coupon policies.
Comment to update the list with other store information:
What is the current discount at your Farm Fresh location?
Is your store still accepting coupons? Doubling?
:: Suffolk 1401 North Main Street Suffolk VA 23434
:: Great Neck 2110 West Great Neck Road Virginia Beach VA 23451
:: Wards Corner 230 East Little Creek Road Norfolk VA 23505
:: Coliseum Dr 2190 Coliseum Drive Hampton VA 23666
:: Laskin Road 521 Laskin Road Virginia Beach VA 23451
:: Great Bridge 309 South Battlefield Boulevard Chesapeake VA 23322
:: Smithfield 1282 Smithfield Plaza Smithfield VA 23430
No longer accepting coupons!
:: Willow Oaks 227 Fox Hill Road, A01 Hampton VA 23669
:: Ocean View 179 West Ocean View Avenue Norfolk VA 23503
:: Grafton 6500-C George Washington Memorial Hwy Grafton (Yorktown) VA 23692
Accepting coupons – no longer doubling
Up to 40% but the majority of things were 20%-30%
:: John Tyler Hwy 4511 John Tyler Highway Williamsburg VA 23185
:: Bennetts Creek Crossing 3575 Shoulder Hill Bridge Road Suffolk VA 23435
:: Mt Pleasant 1464 Mt. Pleasant Road Chesapeake VA 23320
:: Haygood 1069 Independence Boulevard Virginia Beach VA 23455
:: Orchard Square 1400 Kempsville Road, #109 Chesapeake VA 23320
:: Market Place 730 West 21st Street Norfolk VA 23517
:: Strawbridge 2129 General Booth Boulevard Virginia Beach VA 23454
:: Gloucester 7254 George Washington Hayes VA 23072
:: Cedar Road 1620 Cedar Road Chesapeake VA 2332
:: N Battlefield 701-A North Battlefield Boulevard Chesapeake VA 23320
:: Baxter 4872 Princess Anne Road Virginia Beach VA 23462
:: Big Bethel 30 Towne Center Way Hampton VA 23666
Accepting coupons – no longer doubling
:: Kemps River 1385 Fordham Drive Virginia Beach VA 23464
:: Collins Square 4001 Virginia Beach Boulevard Virginia Beach VA 23452
:: Berkely 201 East Berkley Avenue Norfolk VA 23523
:: Military Highway 1200 Military Highway Norfolk VA 23502
:: Victory 4000 Victory Boulevard Portsmouth VA 23701
:: Franklin 1459 Armory Drive Franklin VA 23851
:: Princess Anne 2058 South Independence Boulevard Virginia Beach
*Also not listed on the FF site as closing is Elizabeth City.  They start their liquidation sale at 30% off and are no longer accepting coupons as of 4/6.
::683 Hughes Blvd Elizabeth City, NC 27909
** I'm not seeing these on the list of current closures, but there are reports these stores aren't restocking the deli. Still accepting and doubling coupons – no markdowns.
::460 Wythe Creek Rd, Poquoson, VA 23662
::799 Chimney Hill Shopping Center, Virginia Beach, VA 23452
Please note that discounts and coupon policies can change at anytime.  All information obtained from readers.