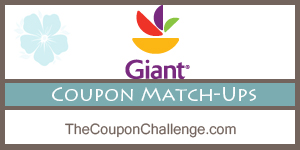 Giant Foods Sale Ad Coupon Mathups are automatically updated each week! Please visit the Giant Foods sale ad coupon matchups page to view the entire list of deals that start today. Make sure you're viewing the correct tab to get the right deals!
Giant doubles coupons up to $0.99 everyday
For B1G1 free items you must buy both items to get the discount
The entire list of matchups can be found on the GIANT Page.  The page is automatically updated on Saturday evening of each week.