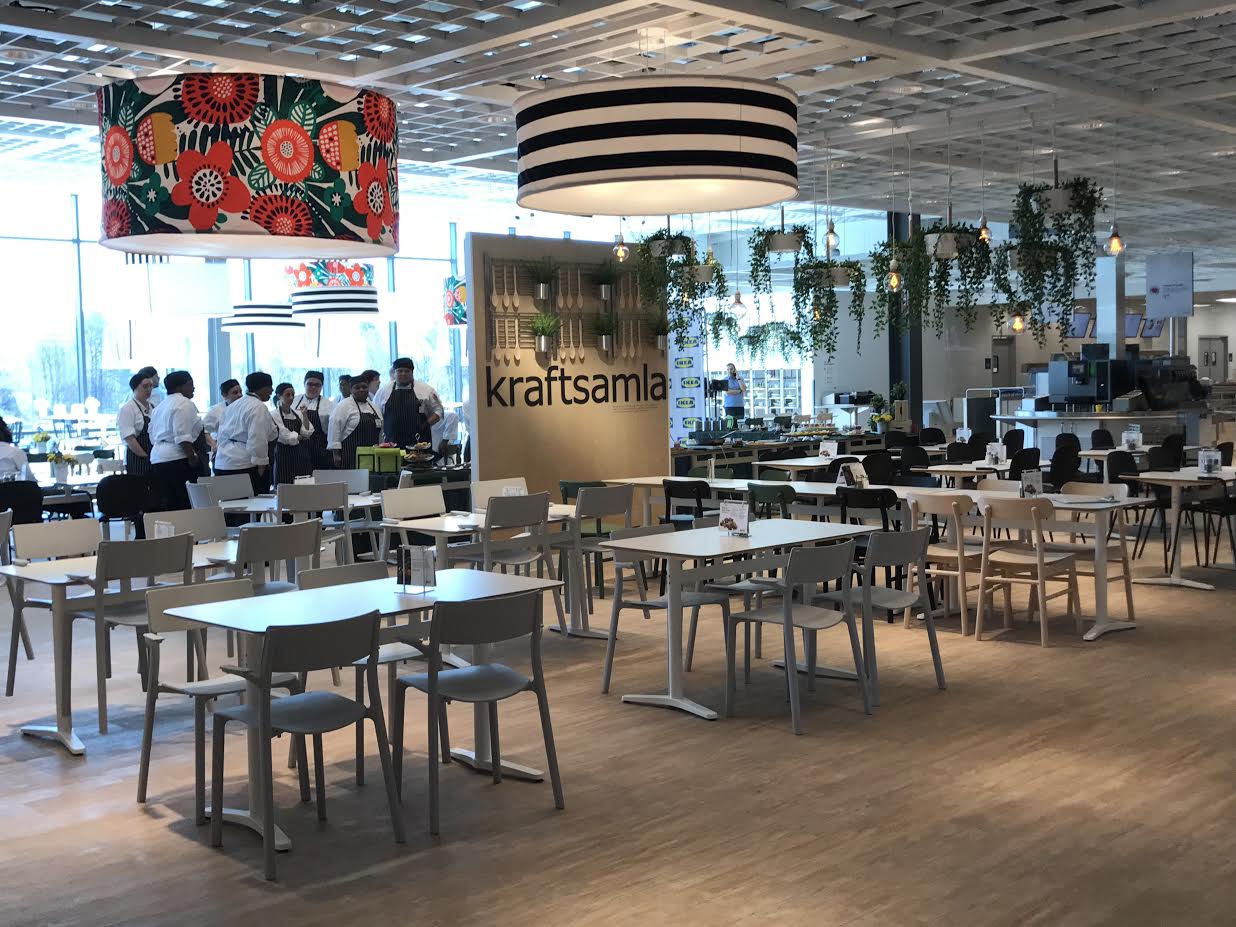 As someone who only recently made their first trip to an IKEA, I was shocked by the fresh food section and quality. I'd heard people mention having lunch at the restaurant while shopping at IKEA, but I'd always pictured a small cafe with sandwiches and Swedish meatballs. Boy was I wrong! I was part of sneak peek at the new Norfolk IKEA and was blown away by the massive restaurant. Plus there is a smaller bistro near the checkout lanes. The food was fresh, delicious and definitely reminded me of dining out during our vacation in Sweden.
Don't worry if you're not feeling adventurous enough to try Swedish cuisine. Though you should give the meatballs a whirl! You can find more "American" type fare such as grilled chicken, chicken tenders, blackberry salad and hotdogs. There is something for everyone at the IKEA restaurant.
We enjoyed the Smorgasbord which is a variety of the Swedish cuisine served at IKEA. Periodically, this is offered to shoppers as an all you can eat. Tickets need to be purchased in advance. IKEA family members can dine for only $12.99 and $2.99 for kids 12 and under! That's a steal!  The regular price is still a good deals as well at $16.99 for adults and $4.99 for kids.
Tip – Get a FREE cup of Swedish coffee in the restaurant until 10am – regular price is $1.
Norfolk IKEA Food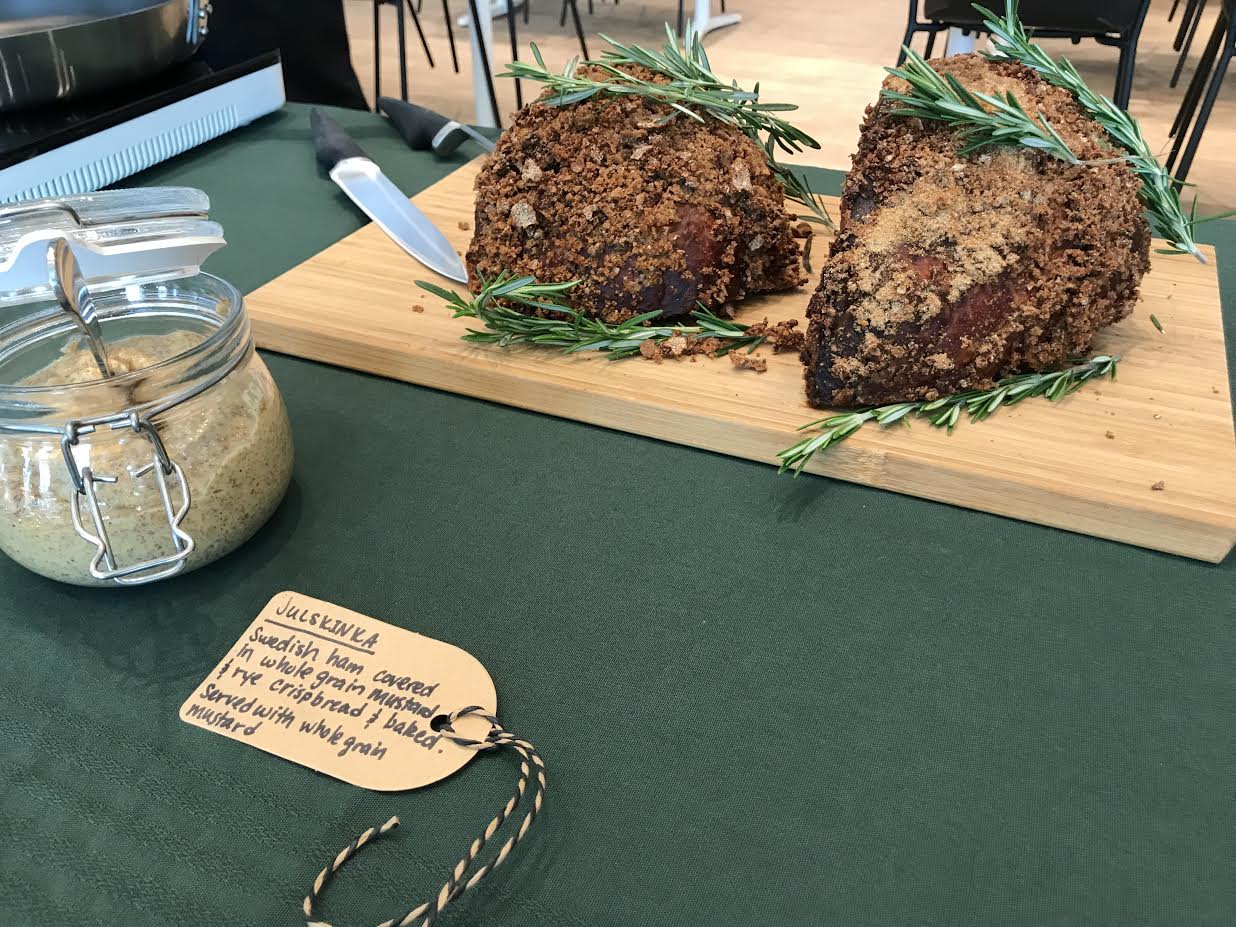 The ham was yummy and my friend had to actually remove the plate from me, so I'd stop eating. I'm working on getting healthy and all the tasty IKEA food didn't fit into my nutritional plan 🙂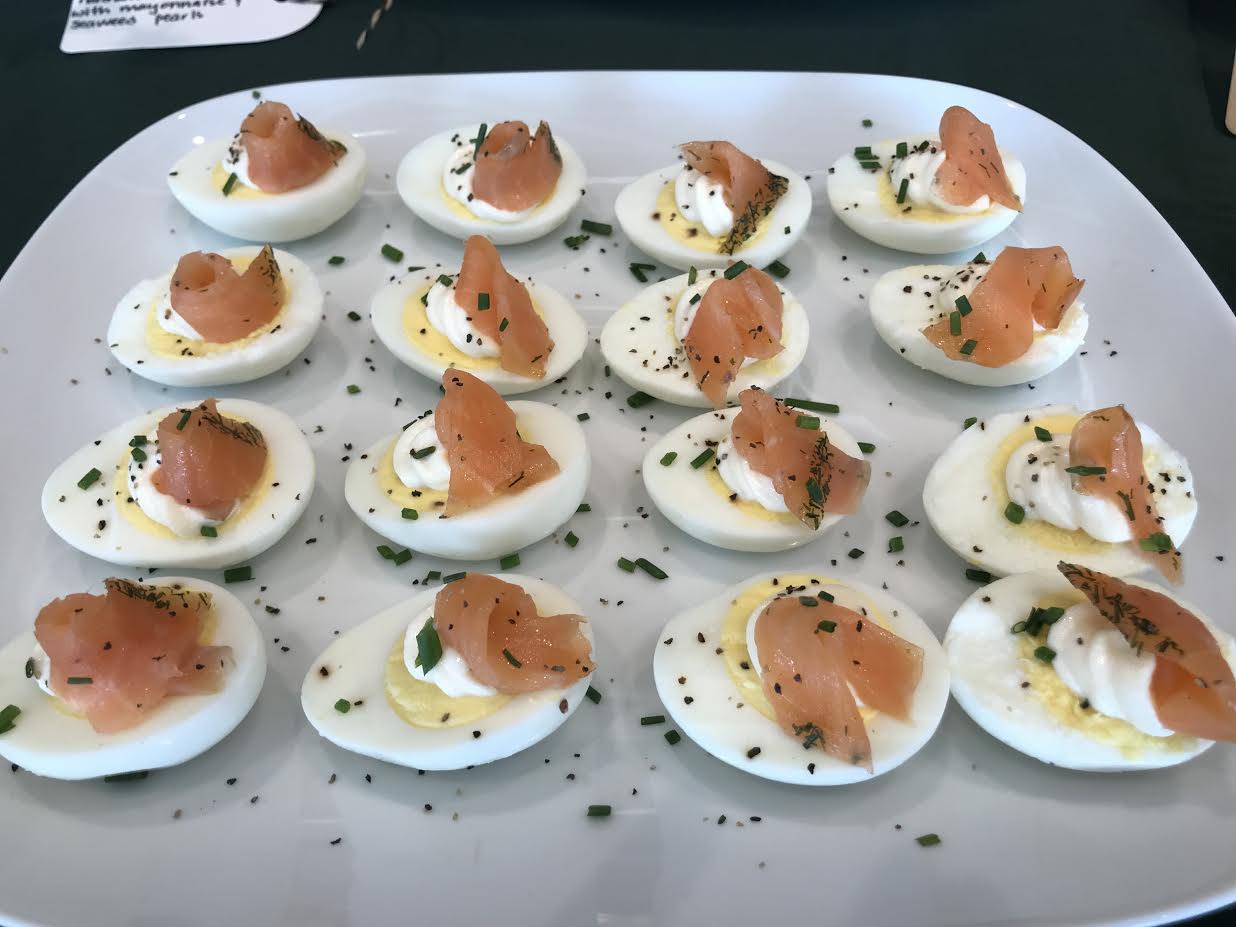 The boiled egg with smoked salmon was delicious and full of flavor. The boiled egg with seaweed pearls wasn't to my taste. I wasn't a fan of the textures, but I think Derrick would enjoy it.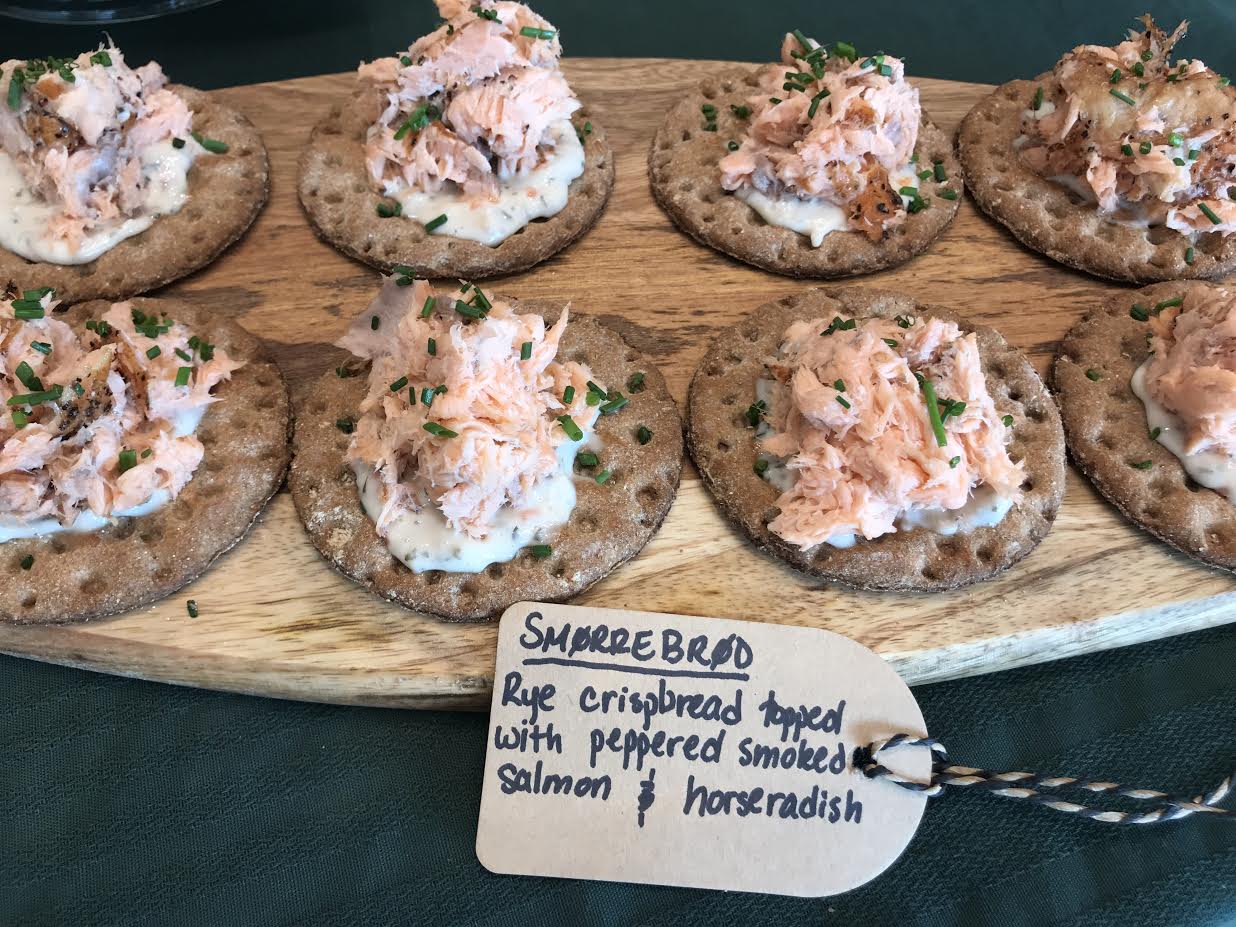 The salmon and horseradish on crispbread was good with a nice smoky flavor but a bit too messy to eat in public. It was suggested that this would be better on a pita.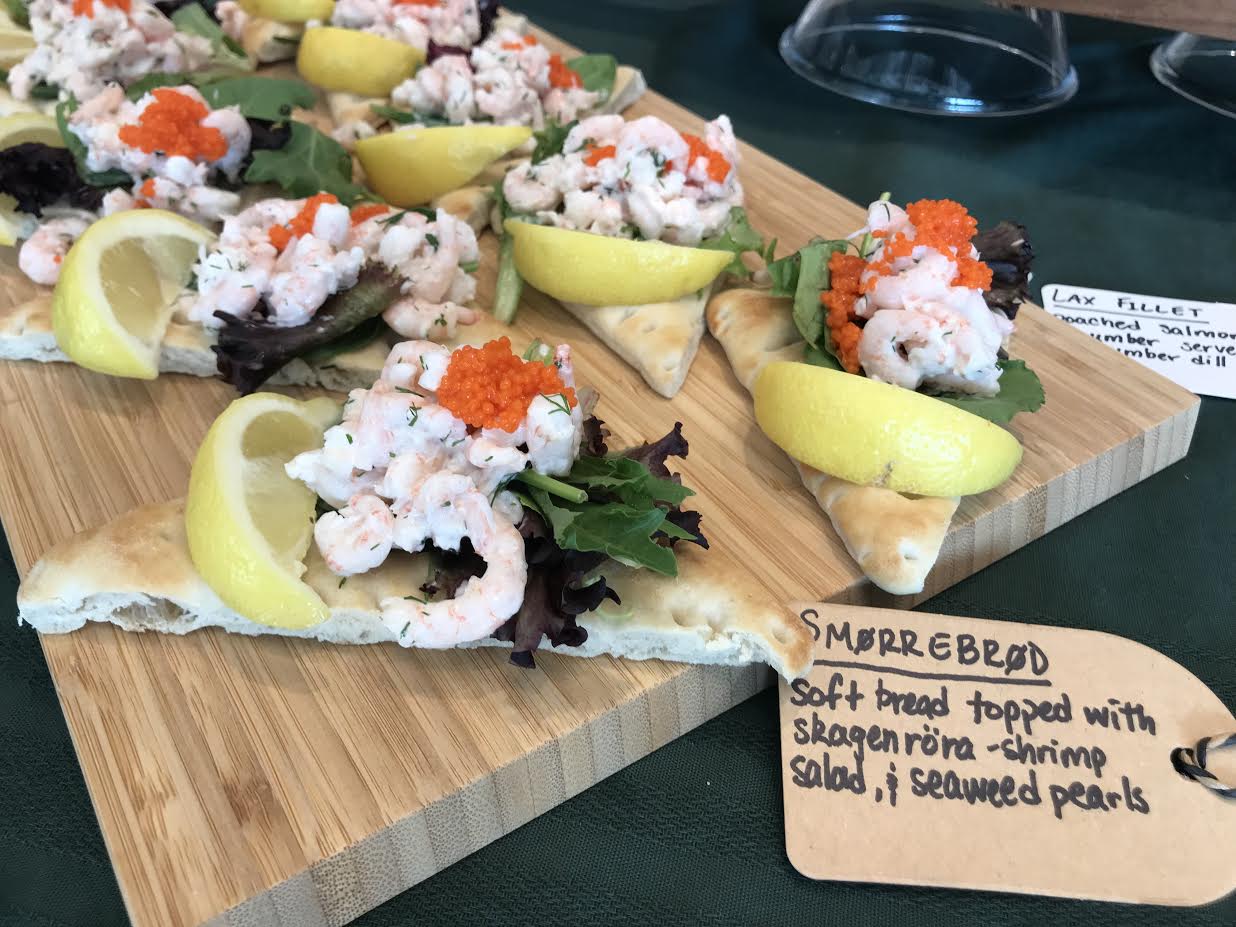 The shrimp salad with seaweed pearls on soft bread was AMAZING! And they aren't skimpy on the shrimp either! This dish transported me straight back to Sweden as we sat a the market eating this exact dish with a seafood soup.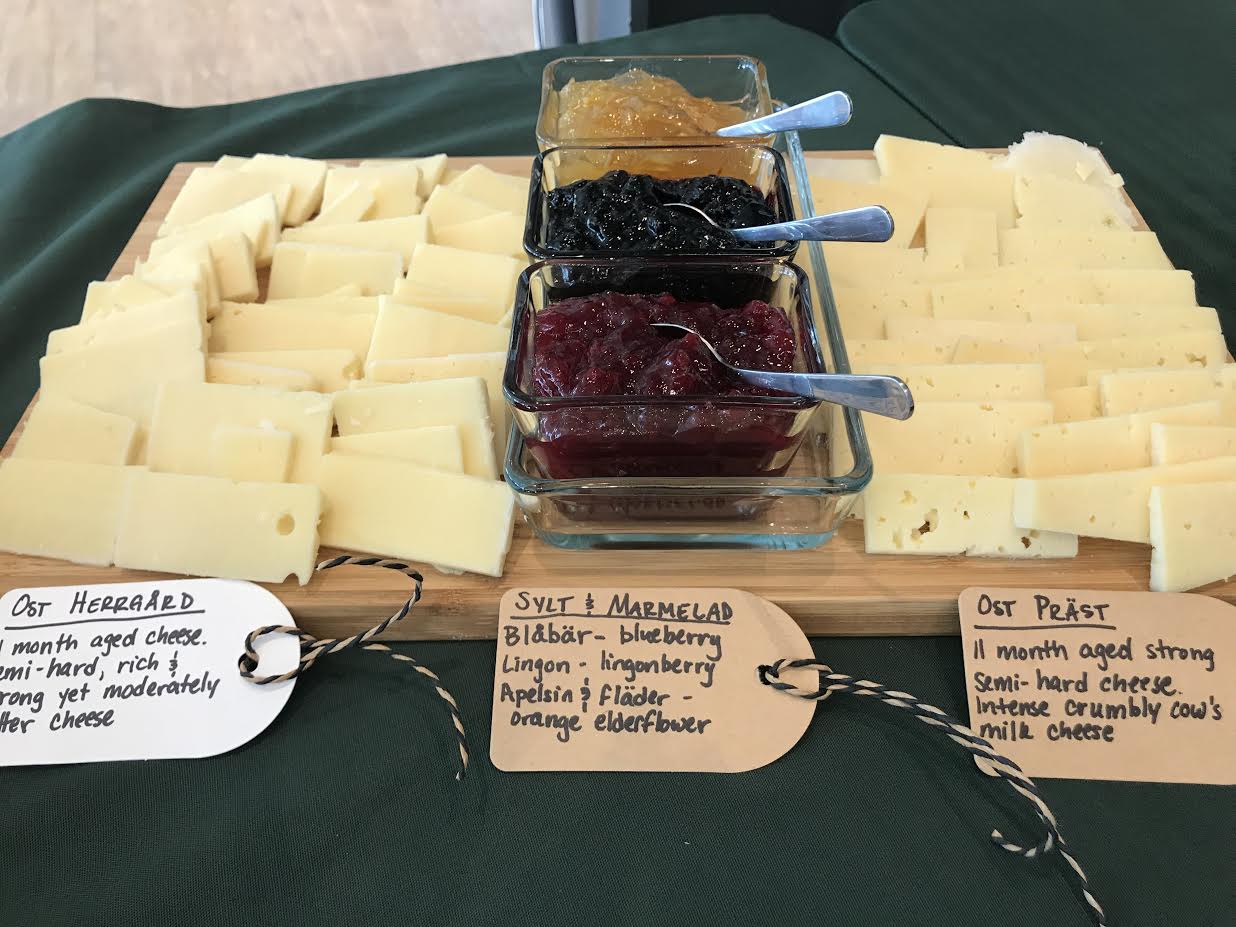 I'm a big cheese person. The cheese aged 11 month is great. It had lots of flavor but may be too flavorful for people who don't like strong cheese.
The Swedish meatballs are pretty awesome. Alone they are great but even better with the lingonberry jam.  These are a must try when visiting IKEA.  They actually serve 2 million meatballs per day!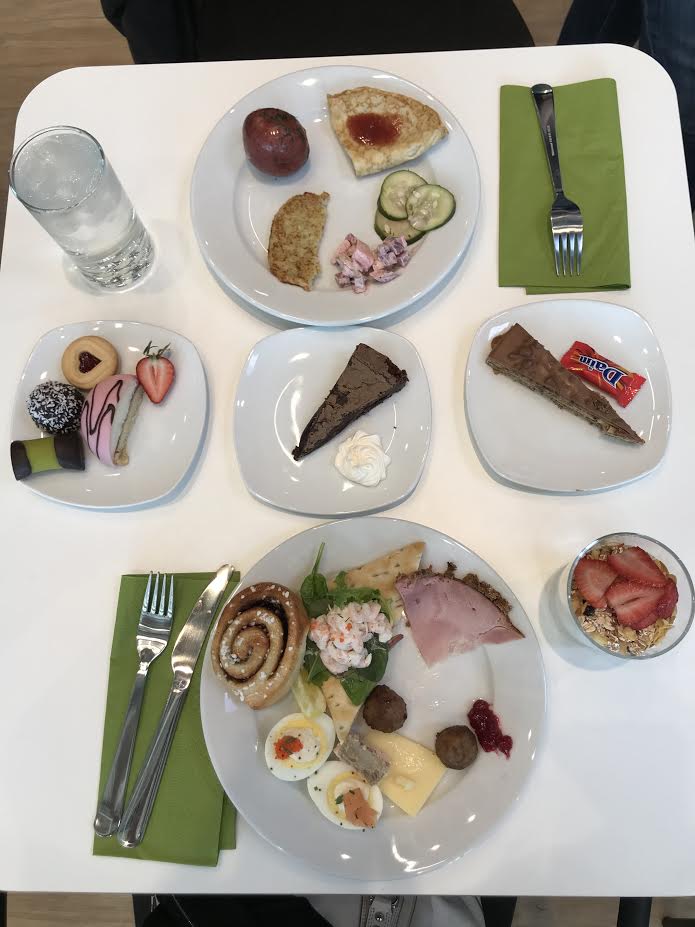 The thin pancake (crepe) tasted like a pancake. We've had these a lot in France, so I was familiar with the yummy goodness.  It was even better flavor with the lingonberry jam. Kids will love it! The lingonberry jam be purchased in the bistro. I was super disappointed the bistro wasn't open during our event because my kids loved this jam. I'll be returning soon to grab a jar or three.
The Swedish hash brown was tasty and served with seaweed pearls and sour cream (which I declined). The Red Potato with butter and dill was good and pretty much what you expect the red potatoes to taste like.
The pickled cucumber salad was really good. Actually better than I expected and has a nice zing. I tried the beets but I'm just not a fan. If you actually like eating beets then you'll probably enjoy this dish. The piece of salmon was, of course, good. I'd tasted it on other dishes during the event. It tasted like salmon should and not at all fishy.
The cinnamon roll was good, a bit crunchy. We were even given packaged cinnamon rolls to take home with us after the event. The kids and Derrick devoured them all pretty quickly. You can purchase these at the bistro to take home as well.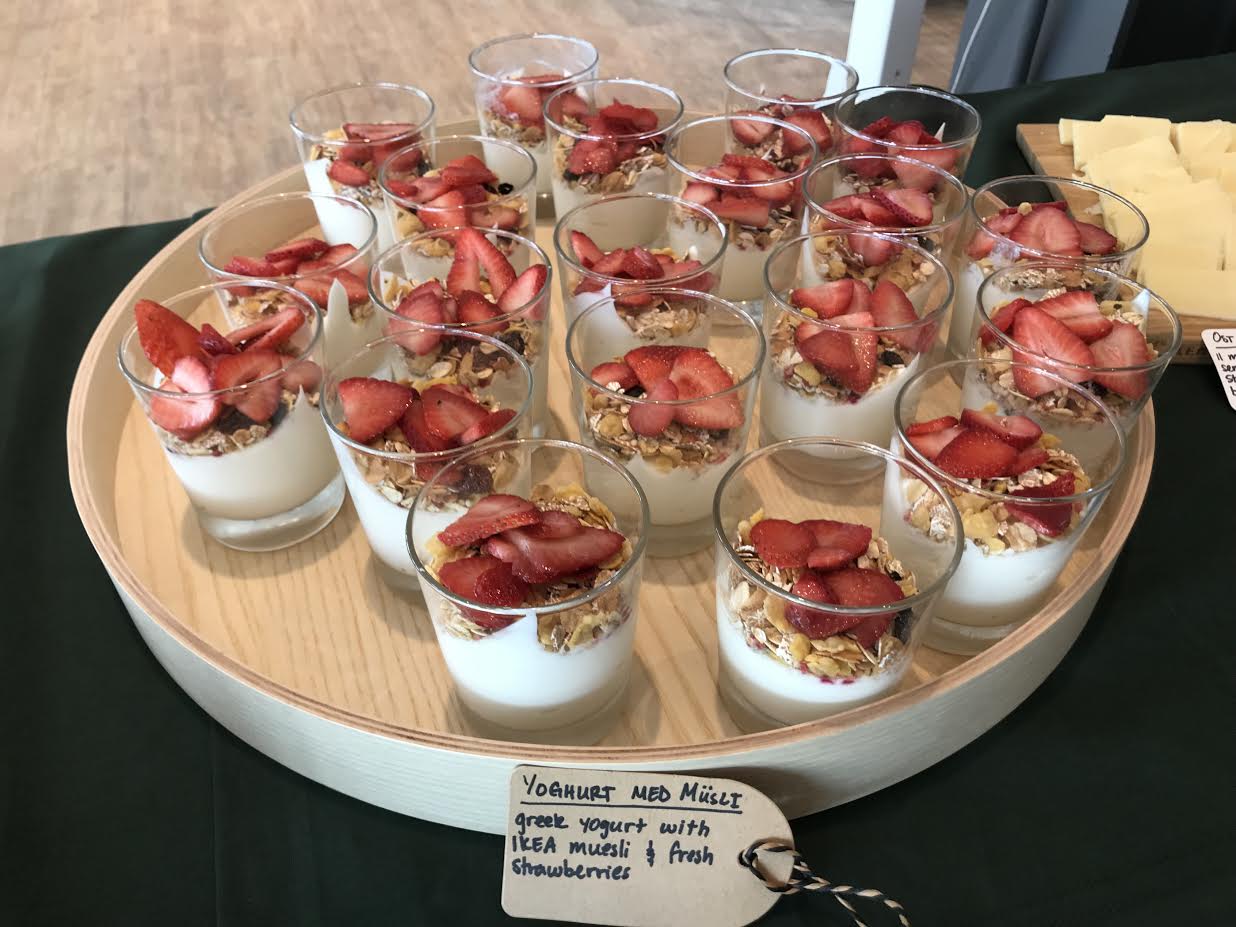 I had a good parfait with muesli and lots of berries if you're looking for a healthier dish. The muesli can also be purchased in the bistro to make your own parfait at home.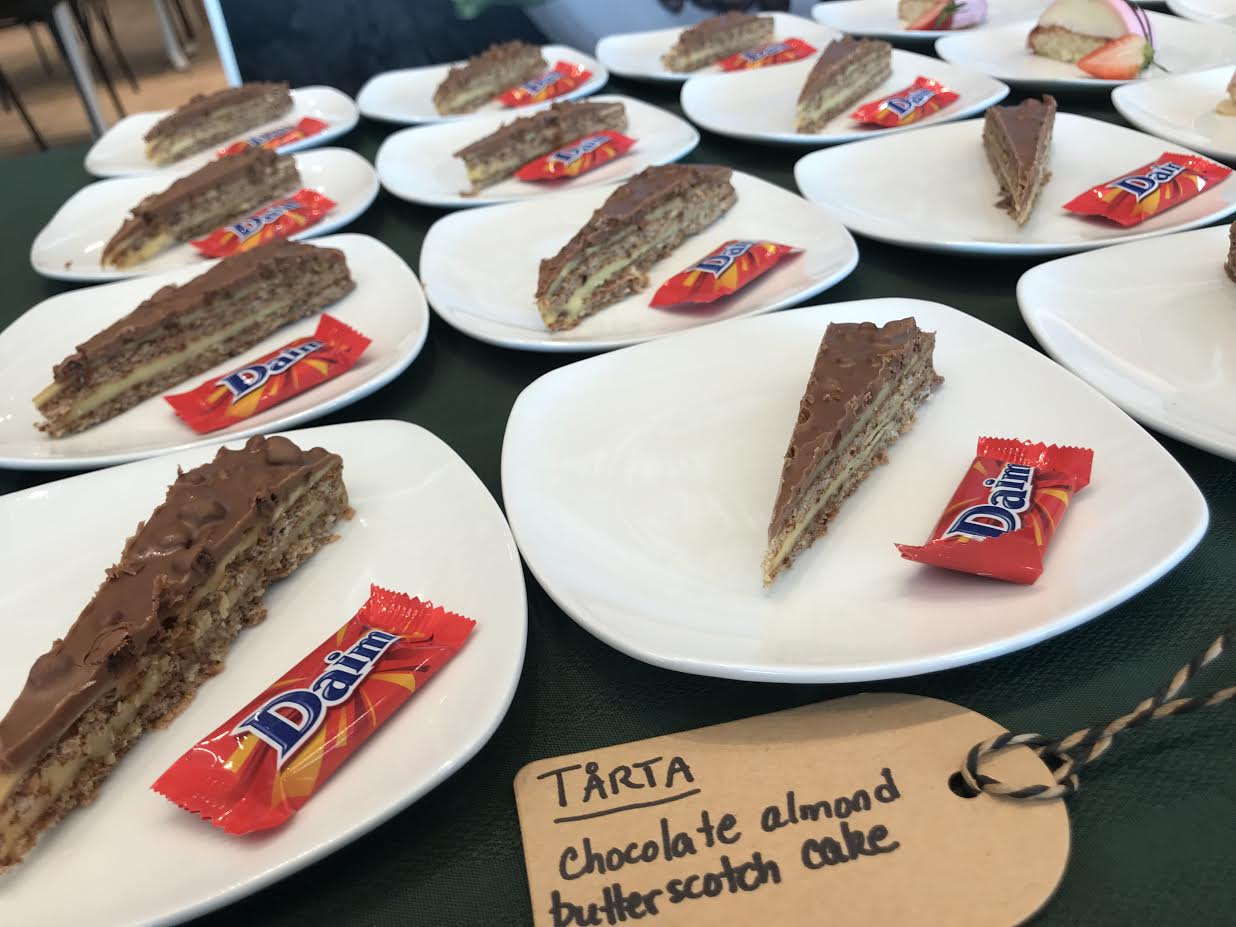 I wasn't a big fan of the chocolate almond butterscotch cake. I don't really like butterscotch nor desserts with a crunch. If you like these flavors, you can purchase the Daim candy in the bistro.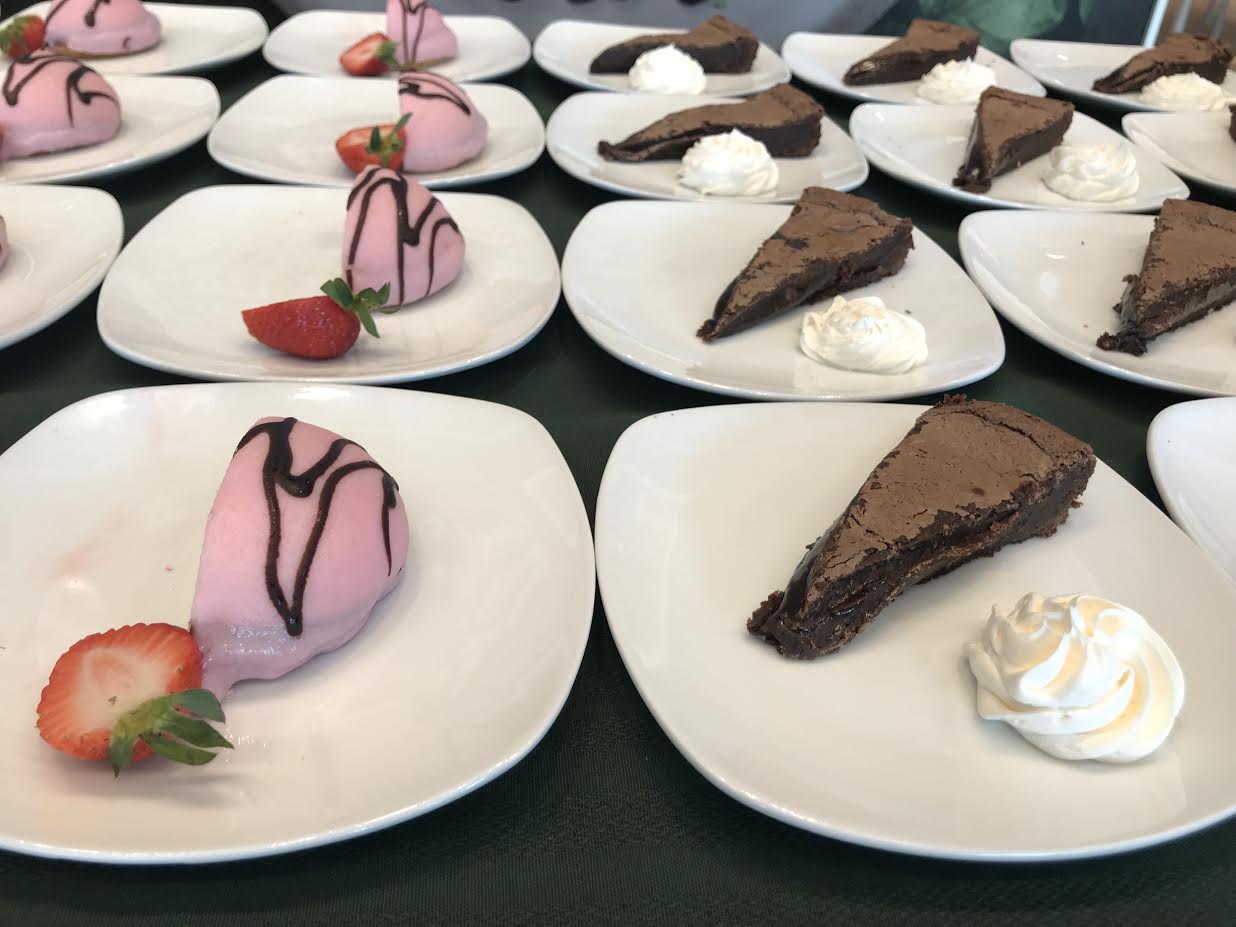 The gooey chocolate brownie was delicious and can also be purchased in the bistro. I'll definitely be picked these up when I need a treat.
The pink sponge cake was good. It had a nice creamy top with a sponge cake bottom. It wasn't what I was excepting when I first took a bite but it was good. You can get whole pieces at the restaurant or purchase in the bistro to-go.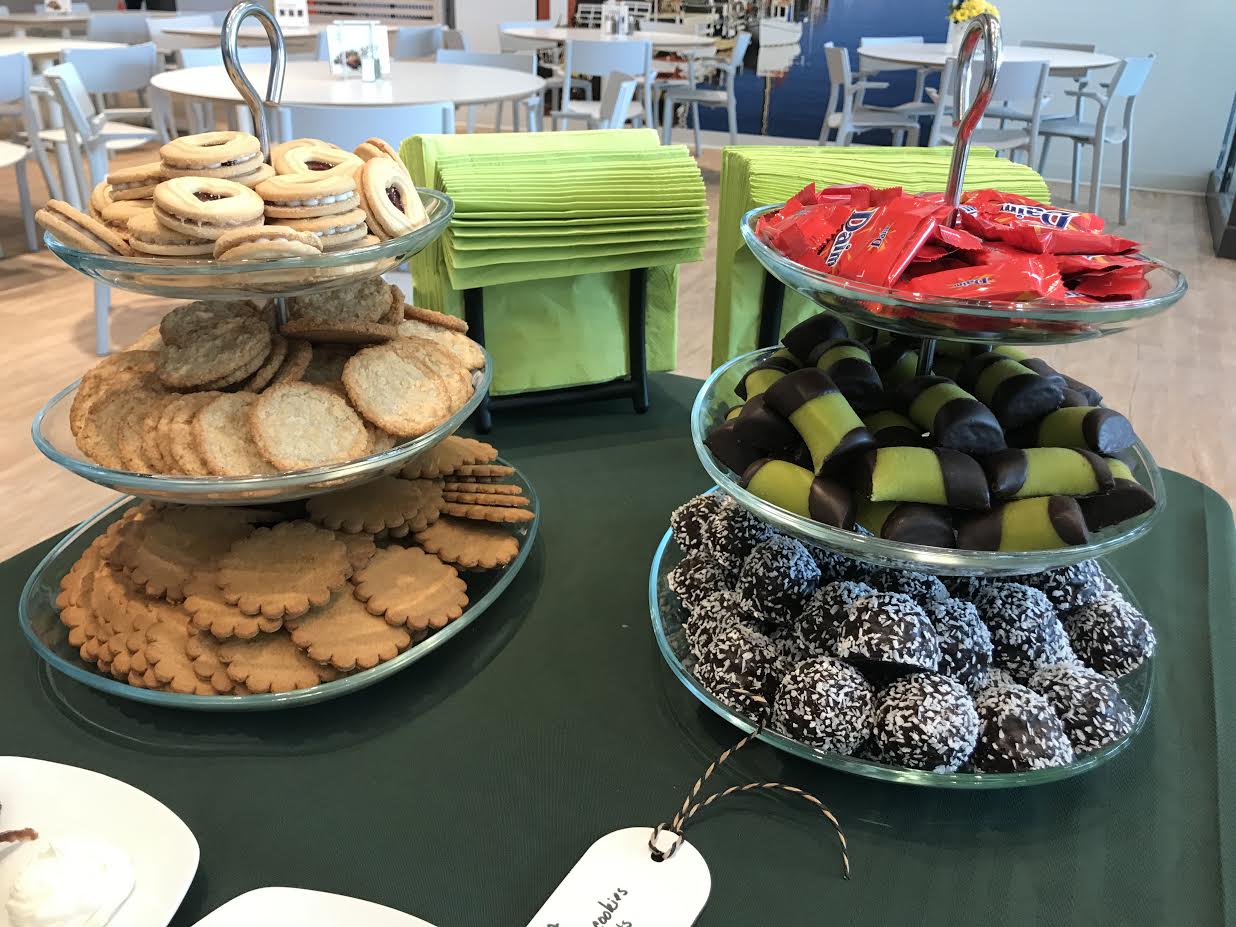 I also didn't like the green KAFFEREP which is a pastry with marzipan coating and chocolate dipped ends. It tasted like green tea to me and that's just not my thing.
The KAFFEREP chocolate ball with coconut sprinkles tasted like coffee, so I loved it. My touring partner doesn't like coffee, so she didn't like this dessert.
The KAFFEREP cookies with jam on the top and icing in the middle were yummy. My touring partner is now obsessed with this cookie and I foresee her avoiding the IKEA Bistro just so she doesn't buy out the whole store.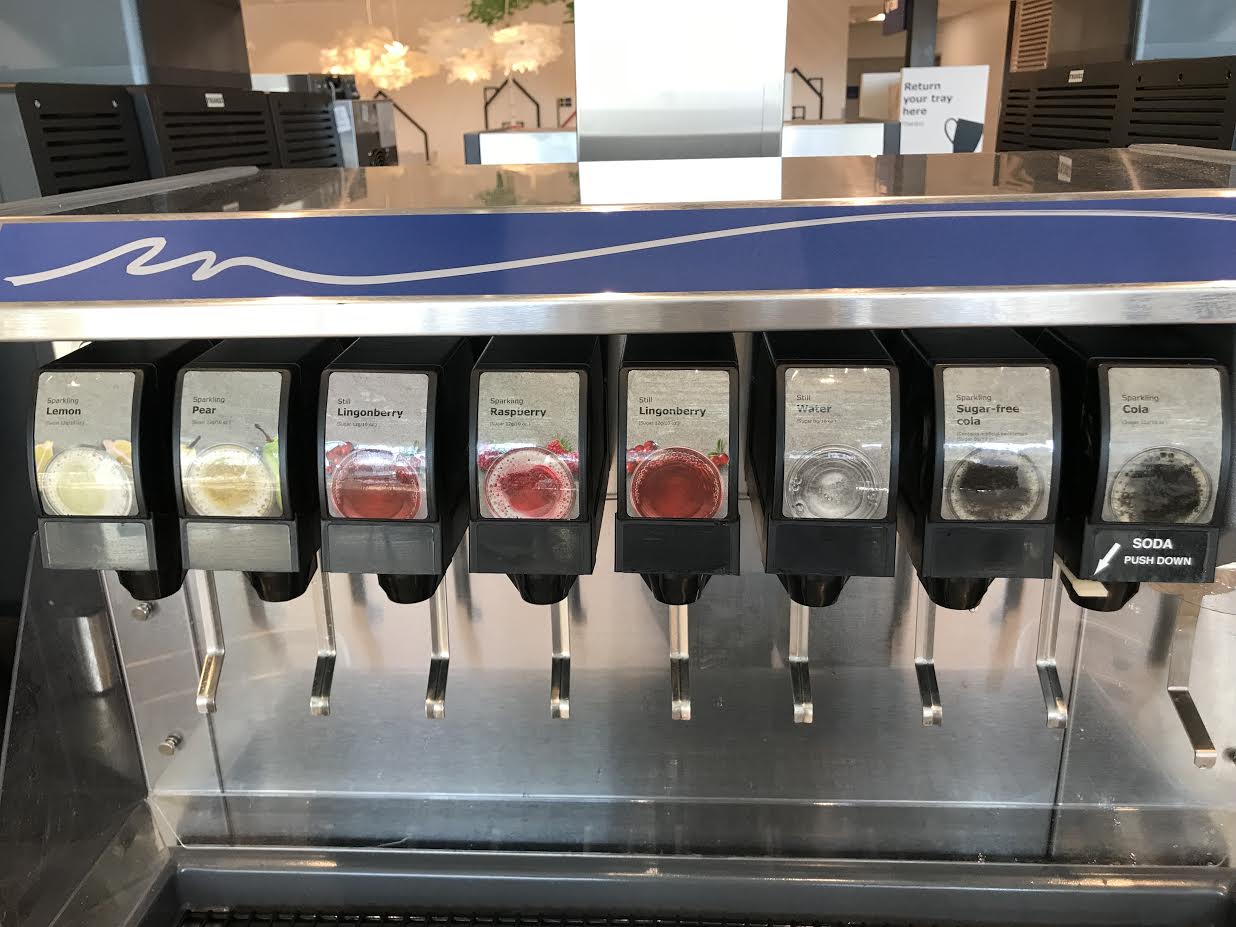 Drink machines are available to get water, flavored soda (I tried pear), regular sodas, tea and coffee.  The restaurant offers plenty of seating with comfy IKEA furniture.  The restaurant is bright and airy, prefect for a pick-me-up coffee or to enjoy a leisurely meal.
IKEA Bistro Goodies:
I mentioned that many of the products can also be purchased in the bistro.  I took some photos of the products, so you can see the ingredients and packages.
Overall, I was highly impressed with the food at Norfolk IKEA. The food is fresh and the quality is fantastic. You can enjoy your treats at the restaurant then grab your favorites at the bistro to take home. Read more about the new IKEA Norfolk plus some tips at shopping IKEA here.