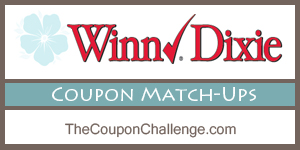 Winn-Dixie Grocery Store are updated EACH WEEK! Please visit the new Winn-Dixie coupon matchups page for a complete list of deals! Make sure you are viewing the tab for the correct date.
Accepts manufacturer and Winn-Dixie store coupons
Coupons that allow more than one free item (Buy One Get Two Free)
Competitor store coupons
"Stacking" is permitted; stacked coupons will redeem when one store coupon and one manufacturer coupon are used on the same item.
"Cash Back" can only be applied to any additional items within the purchase and cannot be applied to sales tax.
See the Winn-Dixie Coupon policy
The entire list of matchups can be found on the Winn-Dixie Page.  The page is automatically updated on Tuesday of each week.