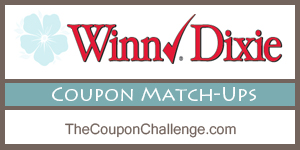 Winn-Dixie Grocery Store Coupon Matchups are done! Please visit the new Winn-Dixie coupon matchups page for a complete list of deals! Make sure you are viewing the tab for the correct date.
Accepts manufacturer and Winn-Dixie store coupons
Coupons that allow more than one free item (Buy One Get Two Free)
Competitor store coupons
"Stacking" is permitted; stacked coupons will redeem when one store coupon and one manufacturer coupon are used on the same item.
"Cash Back" can only be applied to any additional items within the purchase and cannot be applied to sales tax.
See the Winn-Dixie Coupon policy
Multi-Item Deals
Weekend Sale – Dec 17 & 18 – Only
Bounty Basic Paper Towels, 6 pk – $4.00
Limit 4
Final Price: $3.00
some stores do not allow coupons on special weekend sales.
B1G1
Arnold Sandwich Thin Rolls – $3.99 – B1G1
$0.55/1 Arnold Sandwich Thins Rolls Products – 10-16-16 SS; DND (exp. 01/31/17)
Final Price: $1.45
Barilla Pasta Sauce, 24 oz – $2.99 – B1G1
$1.00/2 Barilla Sauce – 11-13-16 RP (exp. 01/08/17)
Final Price: $1.25
Chinet Paper Products, 20 – 72 ct – $6.49 – B1G1
Includes Dinner or Lunch plates
Final Price: $2.25
Keebler Danish Wedding Cookies, 12.4 – 15 oz – $3.79 – B1G1
Final Price: $0.90
use (2) $1/1 coupons includes B1G1 Savings
Keebler Vienna Fingers, 14.2 – 16 oz – $3.79 – B1G1
Final Price: $0.90
use (2) $1/1 coupons includes B1G1 Savings
Mama Lucia, Meatballs, 14 – 20 oz – $6.99 – B1G2
Must buy 2 to get 1 free ($6.99) max value
Final Price: $4.66
Pop Secret Popcorn 6 – 10 ct – $5.99 – B1G1
$0.75/1 Pop Secret – 12-4-16 SS; Includes 6 pk or Larger Only; DND (exp. 01/29/17)

$1.00/2 Pop Secret – 12-4-16 SS; Includes 3 pk or Larger Only; DND (exp. 01/29/17)
Out-of-Pocket Price: $2.25
Final Price: $1.50
buy 2; use (2) .75/1 coupons; submit checkout 51 rebate and includes B1G1 savings
Progresso Broth, 32 oz – $2.50 – B1G1
$0.75/1 Progresso Broth – 11-13-16 SS (exp. 01/07/17)

$1.00/2 Progresso Broth – 11-13-16 SS (exp. 01/07/17)
Final Price: $0.25
use (2) $1/1 Coupons
TGI Friday's Appetizers, 8 – 11 oz – $4.39 – B1G1
Final Price: $1.70
buy 6; use (2) $1.50/3 coupon; includes B1G1 savings
Welch's 100% Juice, 64 oz – $3.99 – B1G1
$1.00/1 Welch's 100% Grape Juice – 10-23-16 RP; Includes 64 oz, 96 oz, or 10 oz Multipack Only (exp. 01/31/17)
Final Price: $1.00
buy 2; use (2) $1/1 coupons and after B1G1 savings
Condiments, Spice & Baking
Dominos Granulated Sugar, 4 lb bag – $2.00
$0.75/1 Domino Sugar Products – 11-6-16 RP; Includes 2 lb or More Only (exp. 01/15/17)

Stacks With 

$1.00/1 Domino Sugar Products – 11-6-16 RP; Includes 2 lb or More (exp. 01/15/17)
Final Price: $1.00
Meat, Poultry & Fish
St. Louis Style, Fully Cooked, Full Slab ribs – $10.00