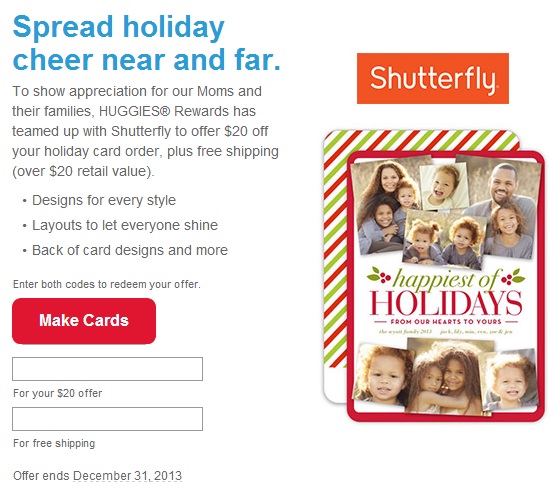 Check your inbox! I got an email from Huggies with codes for $20 off Holiday Cards AND free shipping from Shutterfly!
To show appreciation for our Moms and their families, HUGGIES Rewards has teamed up with Shutterfly to offer $20 off your holiday card order, plus free shipping (over $20 retail value).
• Designs for every style
• Layouts to let everyone shine
• Back of card designs and more
Offer expires December 31st.
*When I searched the Subject line in my gmail inbox ("Your gift: $20 off holiday cards and free shipping") an email from Kellogg's Family Rewards popped up too – with the same offer! They were different codes so I assume I can get $40 of holiday cards shipped for FREE between the two offers. SWEET 😀
If you need to sign up for Huggies Rewards, go HERE.