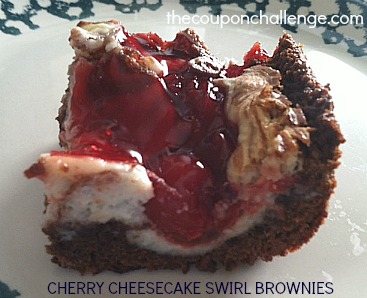 Cherry Cheesecake Swirl Brownies Recipe
These are absolutely decadent and never last long in my house.  I always make sure to take a few to my Dad too!  😮  These will make the perfect dessert for Valentine's Day.  Make them for your Sweetie, your kids, or even take them into work.  They are Super Easy to make!
Cream Cheese Swirl Layer:
1 Package (8 oz) Cream Cheese, softened
1 Egg
1/2 Cup Sugar
1 Tbsp All-purpose Flour
1 Tbsp Vanilla Extract
Brownie Layer:
1 Box Brownie Mix (whatever brand you prefer)
Water, eggs and oil called for on brownie mix box
1 Can Cherry Pie Filling
Directions:
1.  Heat oven to 350 degrees (325 for dark or nonstick pans).  Grease bottom of a 13×9 inch pan with cooking spray (I use a glass baking dish).
2.  In a small bowl, beat together Cream Cheese Swirl layer ingredients with electric mixer on low speed until smooth.  Set aside.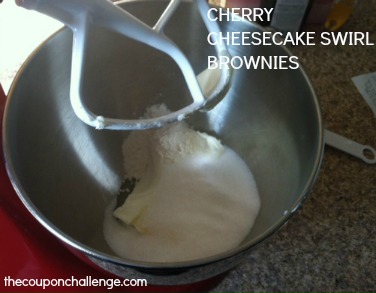 3.  Make brownie batter as directed on box.  Pour into greased pan.
4.  Drop Cream Cheese mixture by spoonfuls evenly over brownie batter.  With a butter knife, cut through the batter in several directions to marble.
5.  Spoon Cherry Pie Filling evenly over top of brownie and cream cheese batter.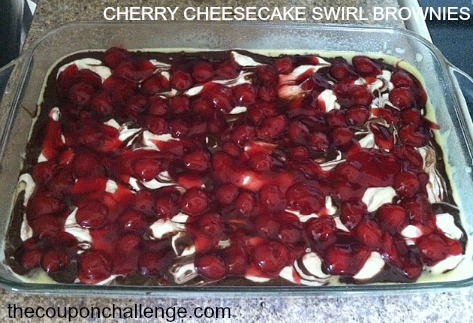 6.  Bake for specified time on Brownie box.  Check for doneness with toothpick.  It probably will not be done.  Cook for another 5 minutes and check for doneness again.  Repeat this until done (when a toothpick inserted in the center comes out clean).
****I have made these so many times, I know that it takes 40-45 minutes in my oven.  All ovens cook differently so the first time that you make these it is best to start with the recommended time on the brownie box and add additional time in 5 minute increments until done.  This will ensure that you don't overcook your brownies.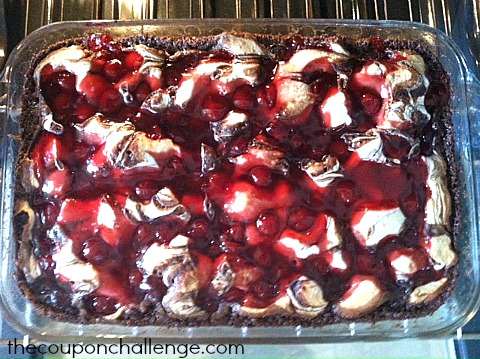 7.  Cool completely.  Cut into squares and store in refrigerator.
Makes approximately 15 Brownies