Who knew that you could cook a tasty and gourmet style dinner using ingredients from your local Dollar Tree? Now that you know,  you won't be able to wait to try it!
Take a look below at how you can make this tasty and inexpensive Chicken Alfredo Pizza Recipe using ingredients found for $1 or less at your local Dollar Tree.  In no time, you can be enjoying this divine dish that is sure to impress.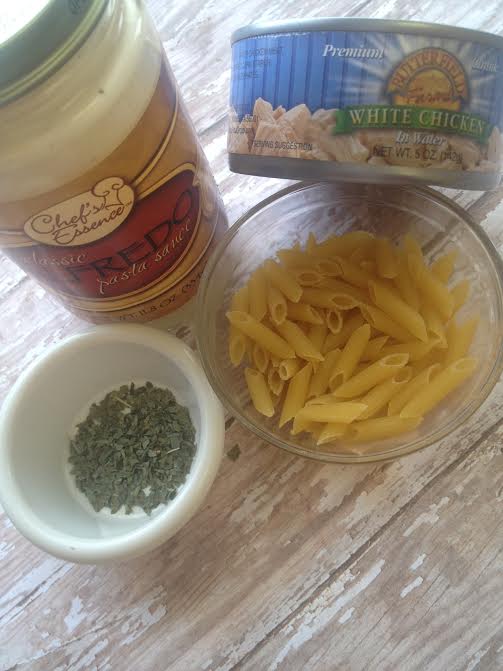 Dollar Store Dinner: Chicken Alfredo Pizza Recipe
Ingredients:
1 package of flat bread (sold in packs of two)
1 jar of alfredo sauce
1 can of chicken
Dried oregano
1 cup of penne noodles
Salt and pepper
Cooking oil
As mentioned, we were able to find all of these ingredients at our local Dollar Tree.  We were able to make two of these pizzas with these ingredients.  Now that is bargain!
Directions:
1. Begin by cooking your pasta until tender.
2. Mix the cooked pasta, canned chicken (drained) and 1 cup of alfredo sauce in a bowl. Mix well until all of the chicken and noodles are coated.
3. Sprinkle the mixture with a little salt and pepper.
4. Spread the mixture on the flat bread. Brush the edges of the bread with a little cooking oil.
5. Sprinkle the entire pizza with dried oregano flakes.
6. Bake in the oven at 350 degrees for 15-20 minutes or until the crust is golden.
Once your pizza cools,  you are ready to enjoy! Slice it up or dig into as is. This Chicken Alfredo Pizza Recipe would make a great lunch or can even be cut up into appetizers. It is a simple, tasty, and inexpensive dish you can enjoy for just a few dollars!
Head to your local Dollar Tree store and gather the supplies you need to make your own.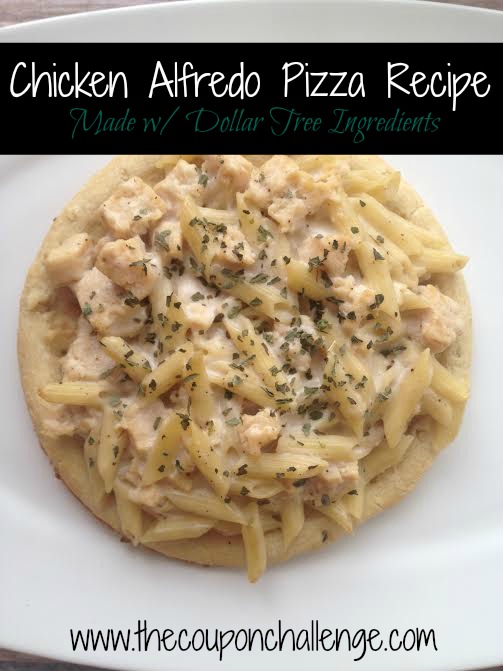 *Stock at Dollar Tree will vary by location. Make sure to see all the weekly Dollar Tree coupon matchups before shopping to save even more!
What do you think of this Chicken Alfredo Pizza Recipe?