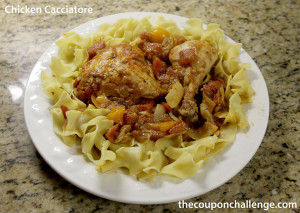 This is a great kid-friendly recipe, I like to use when I find the large family packs of chicken on sale. I sometimes even buy the 10 pound bags, use half for the recipe (I have a 6 qt. slow cooker) and freeze the other half for later. This recipe also uses my stock-pile of canned tomatoes, I get on sale with corresponding coupons.
Ingredients
1 1/2 cup of chopped onion
3-5 lbs of chicken parts (skin removed)
28 oz. diced canned tomatoes
6 oz can of tomato paste
1 bell pepper
1 Bay Leaf
1 tsp. salt
1/2 tsp. pepper
2 cloves of garlic
1 tsp. dried oregano
1 tsp. dried basil
1/4 cup chicken broth
1/2 tsp. sugar
Directions
1. Add onion to slower cooker.
2. Cover with chicken.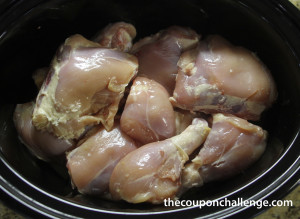 3. Combine remaining ingredients in a bowl.
4. Pour over chicken.

5. Cover and cook on Low for 6 to 8 hours or on High for 3 to 4 hours.
6. Discard Bay leaf.
Serve over egg noodles or other pasta.