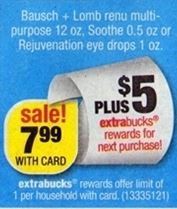 Contact Wearers: FREE Solution at CVS Starting 8/11!!!
Attention all Contact Wearers!!  Make sure to put this deal down on your list starting on 8/11 at CVS!!  You can get Bausch and Lomb for FREE and make a little money if your area got the $4.00/1 Coupon!  I checked and we received it in the Daily Press here in Hampton.
Even if you don't wear contacts this would be a great item to pick up and donate it.
Here's the Deal:
Thanks Cuckoo For Coupons Deals!