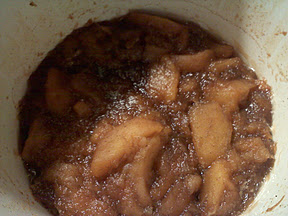 Homemade Applesauce
by Brianne from Just Trying To Save Money
You only need a few ingredients to make a great tasting homemade applesauce and the added benefit is your house will smell like an apple pie!!
Ingredients:
3/4 cup Sugar
1/2 cup Water
1 tsp. Cinnamon
1 tsp. Vanilla
8 – 10 Apples peeled, cored and cut into cubes
Directions:
Turn your crock pot and on high and add water, sugar, cinnamon and vanilla and mix thoroughly. Peel and core your apples to get ready for the crock pot. Either slice or cut your apples into cubes and toss them into the pot!
Mix all ingredients together in crock pot. Leave it covered on high for 3-4 hours.
After 3-4 hours you will see your apples turn to mush and ready to smash into applesauce. Our girls like it a little chunky so I use a fork and mash the whole pieces of apple just a little to make it look more like applesauce. If you want a smoother applesauce you can use a mixer on low to get a better consistency. Since this is our first batch of homemade applesauce I only made 1 batch to see how it turned out. Since the whole family loved it, I think this will become a addition to our jar gifts that we make for Christmas gifts!
 Thanks, Just Trying To Save Money!