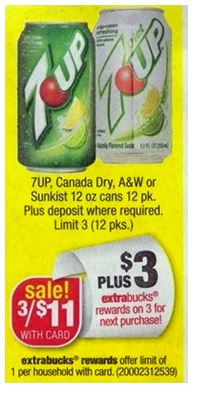 CVS: 7UP 12-packs ONLY $1.67!!
Did you print the Rare $1.00 off ONE 12-pack cans OR (2) 2 -liter bottles of 7UP TEN & TEN Flavors that I posted the other day?  Make sure you do and head to CVS for a hot Stock up deal on 7Up 12-packs for only $1.67 thru Saturday 6/7.
Thanks Cuckoo for Coupon Deals!