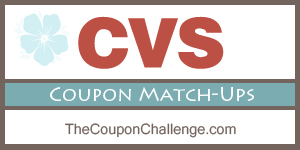 Below are your top weekly CVS deals! Please head over to the CVS coupon matchups page for the complete list of store deals.
**Print the official
CVS Coupon Policy
to keep in your coupon binder.
New to CVS? Read my post on how to save money at CVS to learn how to make the most of your shopping trip.
CVS ExtraBucks
Get $1 ECB wyb 1 participating Sure or Brut; Limit 1
Excludes: Aerosols
$1.50/1 Brut Classic Fragrance or Antiperspirant/Deodorant – 11-11-18 SS; Includes Classic Fragrance, 3.5, 5, or 7 oz Only or Antiperspirant/Deodorant, 2, 2.25, 2.5, 4, 6, or 10 oz Only; Excludes Revolution (exp. 12/09/18)
Out-of-Pocket Price: $1.00
Final Price: Free
Buy 1; Use $1.50/1 coupon; Includes ExtraCare savings
Excludes: Aerosols
$1.50/1 Sure Product – 11-11-18 SS; Includes 2.6, 2.7, or 6 oz Only (exp. 12/09/18)
Out-of-Pocket Price: $1.00
Final Price: Free
Buy 1; Use $1.50/1 coupon; Includes ExtraCare savings
Get $5 ECB wyb $20 in participating Scott; Limit 1
$0.50/1 Scott Bath Tissue – 11-11-18 SS; Includes 4 ct or Larger Only (exp. 12/22/18)
Out-of-Pocket Price: $5.99
Final Price: $4.32
Buy 3; Use (3) $1.00/1 coupons; Includes ExtraCare savings
Get $6 ECB wyb 1 participating Macbeth Collection Kit; Limit 1
Out-of-Pocket Price: $9.99
Final Price: $3.99
Buy 1; Includes ExtraCare savings
Get $7 ECB wyb $10 in participating Milani; Limit 1
Get $7 ECB wyb $10 in participating Physicians Formula; Limit 1
Excludes: Trial and travel sizes
Get $7 ECB wyb $20 in participating Dial, Right Guard, Dry Idea, Renuzit, Persil, Gliss, Schwarzkopf; Limit 1
$2.00/1 Persil ProClean – 10-21-18 RMN; Excludes 6 loads or Less (exp. 11/18/18)
Out-of-Pocket Price: $2.99
Final Price: $1.24
Buy 4; Use (4) $2.00/1 coupons; Includes ExtraCare savings
$2.00/1 Persil ProClean – 10-21-18 RMN; Excludes 6 loads or Less (exp. 11/18/18)
Out-of-Pocket Price: $2.99
Final Price: $1.24
Buy 4; Use (4) $2.00/1 coupons; Includes ExtraCare savings
Cookies, Snacks & Candy
$0.50/1 Tic Tac Gum, Tic Tac Mints or Tic Tac Mixers – 10-21-18 SS (exp. 01/21/19)
Final Price: $0.38
Buy 1; Use $0.50/1 coupon
$0.50/1 Tic Tac Gum, Tic Tac Mints or Tic Tac Mixers – 10-21-18 SS (exp. 01/21/19)
Final Price: $0.38