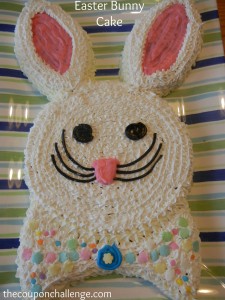 Learn how to make an Easter bunny cake with just a few simple steps.  An Easter Bunny Cake is super cute and requires very little cake decorating skills.  This was a fun project for the kids to get involved it.  Kids can help bake the cake and decorate.  LuLu did all the candy decorations on the bow tie 🙂
How to Make Easter Bunny Cake: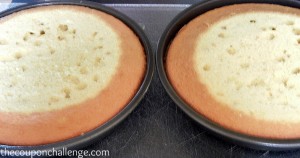 1.  Bake your desired cake mix in (2) round cake pans.
2. Cool and trim middle "bump" if necessary so cakes will lie flat, set aside excess.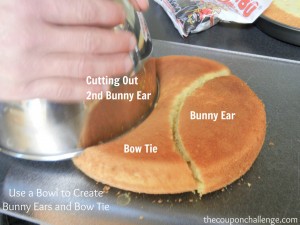 3.  Use (1) round cake for making the bunny ears and bow tie.  Use used a bowl to help with the rounded edges.  Leave the other round cake for the head.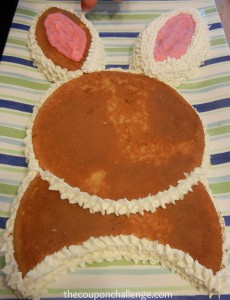 4.  Assemble the bunny cake by placing the bow tie, round cake for head then bunny ears.
5. Decorate cake as desired.  We used white icing with a star tip facing straight down to decorate a majority of the cake & smooth pink icing for the ears.  The kids used pink icing for the nose, black licorice for the eyes and whiskers, and flower sprinkles to decorate the bow tie.
Did your kids make Easter bunny cake with you?
Want to make your own homemade Butter Cream Icing?
See my Cross Cake too