This is a Sponsored post written by me on behalf of Dollar General. All opinions are 100% mine.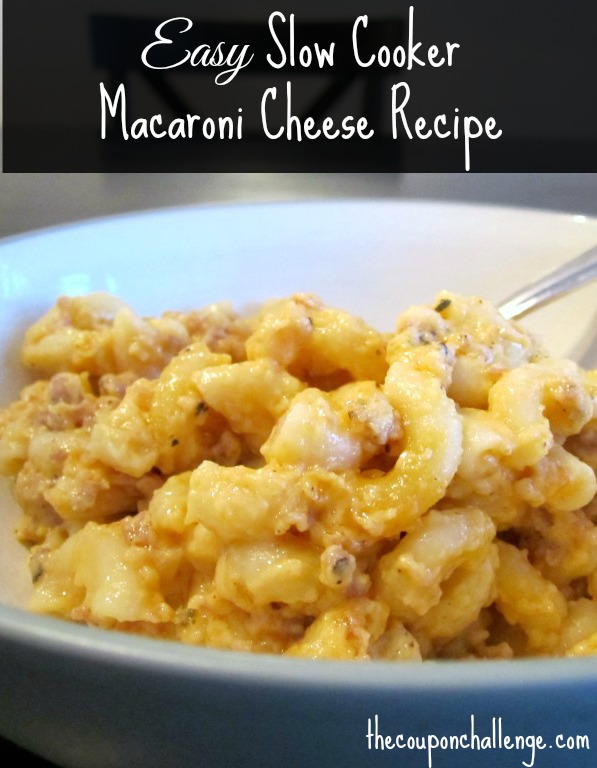 Maybe because its snowing, or maybe because of the sub-zero temperatures we're having this week, but I am CRAVING comfort food. Warm, cozy and carbohydrate-y, yes please! When I was asked to write a post about my favorite crockpot recipe from Dollar General, I knew what I wanted to make: Mac n Cheese.
Pay no mind to the fact that I'd never actually made Slow Cooker Macaroni Cheese or shopped at the Dollar General for food items. I was excited to try both – and the results were great!
I hit up my local Dollar General for ingredients. Did you know that they not only have great prices on pantry items and shelf stable products, but have refrigerated/frozen items too?! I was able to pick up cheese, milk, a roll of sausage and a box of pasta for the recipe I wanted to try.
I also grabbed a few "snow day" items like eggs, pop tarts, peanuts and D batteries. Their Clover Valley brand is well priced and all the Clover Valley items I purchased tasted great comparable to the national brands, really.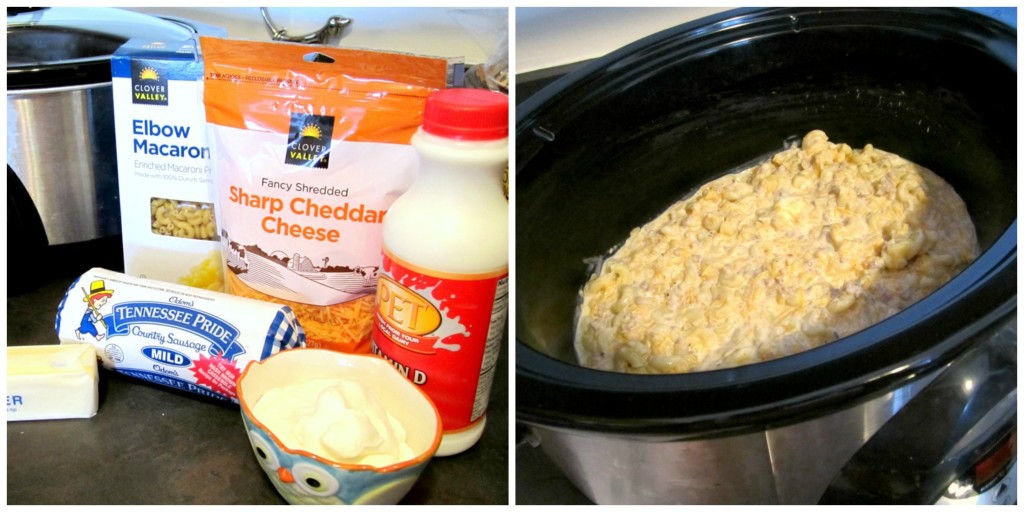 Slow Cooker Macaroni Cheese Recipe
Total Time: 2-3 hr, 10 min.
Prep time: 10 min
Cook time: 2-3 hr
Yield: 6 servings
Ingredients
2 1/2 cups uncooked elbow macaroni
1/2 stick (4 Tbsp) butter, sliced
3 cup grated sharp Cheddar cheese (from a block, not pre-shredded)
1/2 cup sour cream
1 cup whole milk
1 teaspoon salt
1/2 teaspoon dry mustard
1/2 teaspoon black pepper
1/2 lb. mild sausage, browned (optional)
Directions
Boil the macaroni in a saucepan for 7 minutes. Noodles should be al dente. Drain.
Add butter, sour cream, salt, milk, mustard and pepper to crock pot.
Add pasta, sausage and cheese, stir well.
Set the slow cooker on low setting and cook for 2-3 hours, stirring occasionally.
Meal is done when cheese is melted and edges are starting to get crispy.
Enjoy!
**I did end up using pre-shredded cheese because that is what I had, but I highly suggest grating your own from a block – it melts better. Ours ended up a bit grainy. But still delicious 🙂
Be sure to check out the Dollar General easy meals and their great selection of food items.  Don't forget to "like" Dollar General on Facebook and on Twitter to keep up with their latest deals and coupons!
Do you have a favorite Slow Cooker Macaroni Cheese recipe?