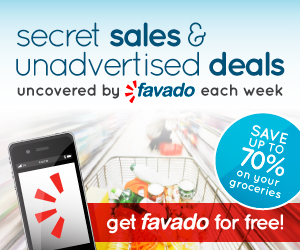 Have you signed up yet?
Want to take your grocery savings mobile?  Download the FREE Favado App to get access to all your favorite matchups such as Harris Teeter, Target and CVS on your mobile device!
Favado was created by Savings.com to help you save even more on your grocery bill.  I contribute the Harris Teeter coupon matchups each week 🙂
So what is Favado?  Favado is a mobile savings app that helps shoppers stop overspending by notifying them when their favorite items are on sale. Favado has money saving experts who hand select sales and coupons every week — in more than 65,000 grocery and drugstores nationwide — to enable discovery of the best deals for savings up to 70% on everyday items.
You can create a shopping list using the "My List" feature which allows you to build your weekly shopping list within the app. Your "My List" can be used at home to print coupons or at the store while on the go. It can also be shared via email with whomever is doing the grocery shopping for you!
How do I redeem the savings?  Add the items you need from the store's deals list to your shopping list. Any printable coupons that are combined with the sales can be printed out on your home computer, after you email yourself your shopping list. Any coupons from the newspaper or a magazine can be clipped and taken to the store to redeem.
Another super cool feature of the App is that you can compare prices on your favorite products.  Simply select your favorite brands or products and the App will show you where those items are on sale each week!
You can see a screenshot of the app from my phone below: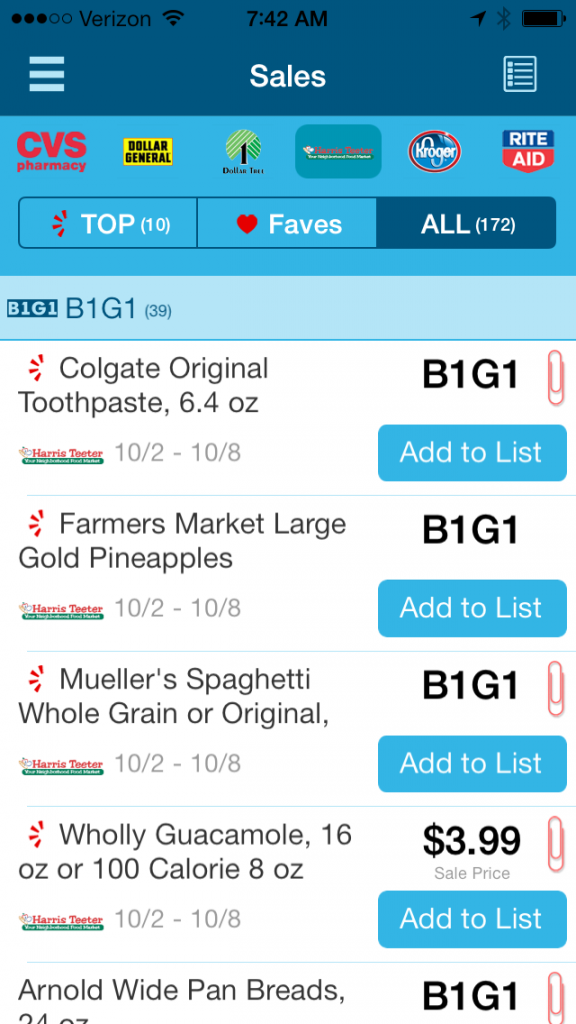 Favado is available for iPhone, iPod Touch and Android devices.
Another reason why I think this App will help you is for traveling.  If you're like me, you like to purchase food from the grocery store to save on eating out.  Having this app will be great because you can find out what's on sale at stores in the area you're planning to travel.  Even without coupons, you can save money on groceries!
:: Click HERE to create a Favado account – this way you can email yourself shopping lists and coupons!
:: Download the App to your Android or iPhone from the App Store or Google Play.
:: Login using the email and password you just created.
:: Select your favorite stores and get started!
Signing up & creating an account from my site is appreciated 😉  You can then download the app on your phone and login.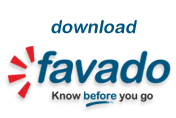 Please let me know what you think of the App.