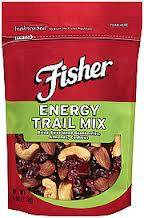 I am super excited about this freebie at Harris Teeter.  We're taking a camping trip later this month (feels so weird saying that – just can't get used to it being July already!)  Hubby was just telling me last night that he wants trail mix for the trip – I love coupons 🙂
Fisher Trail Mix (4 oz) $1.99
$1.00 off (1) Fisher Snack item 4 oz. or larger
FREE after doubled coupon!
See more Harris Teeter Super Doubles deals before heading to the store!