Attention Hampton Roads:  Free Sewing Class at Tidewater Sew-Vac.
I have to admit.  I LOVE sewing and this is why I am so excited about the FREE sewing class being offered by Tidewater Sew Vac.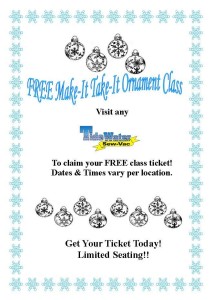 Tomorrow, Tuesday Dec 3rd, stop in to any Tidewater Sew-Vac and pick up your ticket for a free Make It Take It Ornament Class.  You have to be at least 18 years old in order to participate.
Click here for locations and hours.  Each location has a different day/time for this event.