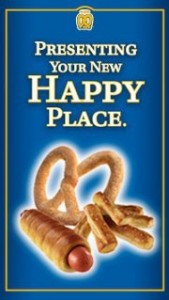 Reminder:  FREE Pretzel tomorrow, March 3rd
My kids ask for a Auntie Anne's pretzel every time we go to the mall.  They sure are yummy!
Mark your calendar's to head to your local Auntie Anne's on Saturday (March 3rd) for a FREE pretzel!
On Saturday, March 3, from 10 a.m. until 3 p.m. Auntie Anne's is offering every guest who visits our counters a free Original or Cinnamon Sugar Pretzel – no strings attached! We want to give everyone in the nation an opportunity to experience our fresh, hot, hand-rolled soft pretzels. Let your new obsession begin!
Thanks, A Frugal Chick!