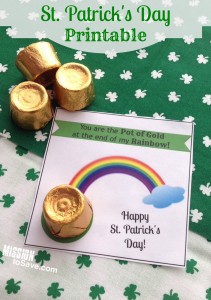 Happy Friday!  Get your 20 FREE offers!
Normal Christian Life by Watchman Nee (Audiobook)
Monday to Friday – Pasta from the Pantry eCookbook
Pest Control for Organic Gardening by Amber Richards
Understanding Your Bible in 15 Minutes a Day by Daryl Aaron
Rainbow Candy Jar Gift Tag Printable
Pot of Gold at the End of My Rainbow Gift Tag Printable
Smoothies: The Most Delicious Recipes for Weight Loss, Vol. IV by B.M. White
32 Delicious Salad Recipes for Rapid Weight Loss by Nicole Taylor
Barnyard Chickens by Rashelle Johnson
Junkyard Tales from Sparkle Stories
St. Patrick's Day Math Printables
Finish Dishwashing Detergent Sample
Small Moments: A Child's Memory of the Civil Rights Movement by Mary M. Barrow
Finding God When You Need Him Most by Chip Ingram
Every Word (Game)
Purina ONE Dog Food Sample*Sam's Members*
Thanks, Savings Lifestyle!