From the Chick-fil-a Facebook Page: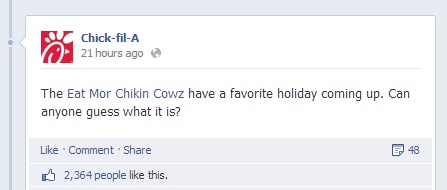 Get excited for Cow Appreciation Day July 12th, 2013! Just one month away TODAY!!! 🙂
"For one day only, black and white spots, cow bells and furry ears will be appropriate attire at Chick-fil-A restaurants all across the nation. In celebration of Cow Appreciation Day (an unofficial yet nationally recognized holiday), Chick-fil-A will award a FREE Meal (breakfast, lunch or dinner) to any customer who comes to one of our 1,600+ restaurants fully dressed as a cow, and a free entree for partial 
cow attire."
My family will dress up like cows to get a FREE Chick-fil-a meal, will yours?