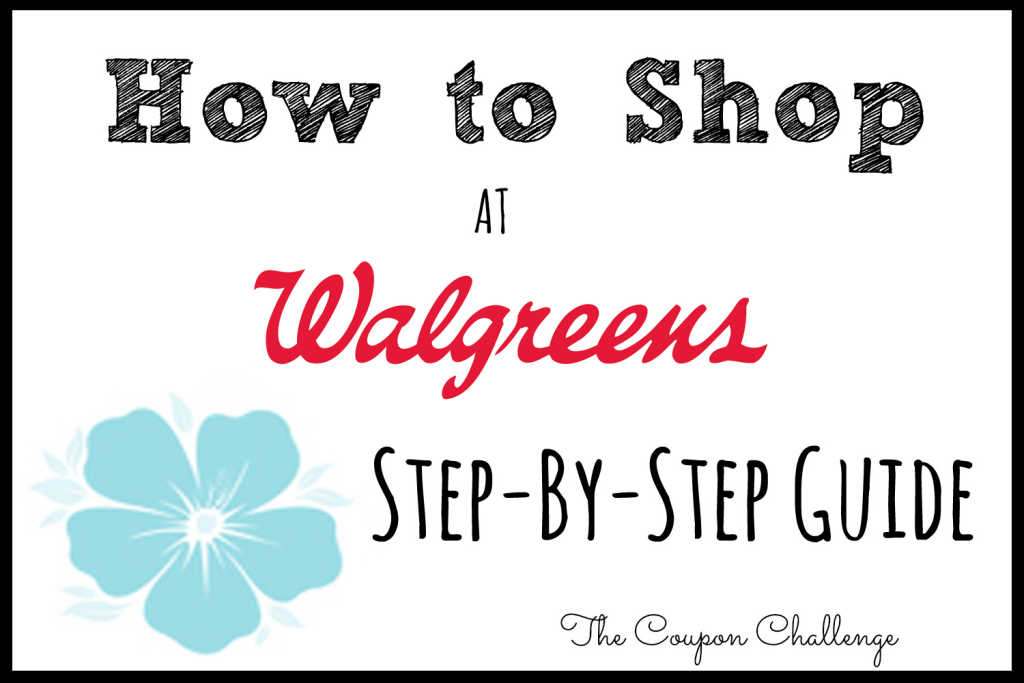 Walgreens runs fantastic promotions which allow you to pick up household and personal items for cheap or even FREE. The key to making the most out of drug store shopping is to know how to combine manufacturer's coupons with in-ad coupons and, even better, Reward Programs.
How to Save Money at Walgreens
Before we get started here are a few basic things to remember:
– Get organized before going to the store! Know what you are going to buy and have the coupons out for those products.
– Note if you need to do separate transactions and separate the coupons accordingly.
– Bring a calculator or use your cell phone (in case you need to rework a deal) and take the weekly circular ad or pick one up when entering the store.
At Walgreens you can earn Register Rewards (RR) on specific products. RR are manufacturer's coupons that print from a Catalina machine at the register. These RR are Walgreens specific (more on that later) and are worth a certain value just like a standard coupon.
RR deals are listed in the weekly circular ad, and you will find matchup's on my site telling you what to buy and even giving deal ideas. In the example above, for every Glade product you purchase, you'll get $1 RR. You can use a manufacturer's coupon on this purchase to make your out of pocket even lower.
These RR can be "rolled" to produce more RR thus lowering your total out of pocket expense. RR deals can also be combined with manufacturer's coupons to get an item cheap, free or make it a moneymaker! This is the drug store "game," getting paid to shop at the store!
Keep in mind:
– RR expire after 2 weeks!!
– RR can be used to purchase anything in the store, except the same item (discussed further below).
Balance Rewards is the other Rewards program at Walgreens. 1000 Balance Rewards points = $1 to use on anything in the store (besides the usual dairy, stamps, prescriptions, alcohol, tobacco, phone cards, lottery tickets, transportation passes, charitable donations, or money orders.)
You need to have 5000 points ($5) before you can use them. To earn points, all you need to do is look over the ad, pick which qualifying items you would like to purchase, and be sure to hand over your Walgreens card at check out. You can buy as many qualifying items as you like in one transaction, and you will earn points for all qualifying items.
In the example above, we are able to purchase 3 Dove Body Washes at "buy one, get one 50% off" and earn 3000 points. You can use coupons as well to lower your total!
Keep in mind:
– Balance Rewards points expire after one year of total inactivity on your card.
– You cannot use points to pay for a transaction where you hope to earn points.
– You will earn points if using manufacturer's coupons and Register Rewards, but if you are doing a deal such as "spend $30 on these items, receive 5000 points" and you are using the coupons from the monthly booklets (discussed further below) your total needs to be $30 AFTER the monthly Walgreens coupons are applied.
In-ad coupons are store coupons that lower the cost of an item or items. In the example above, this weekly ad contains a coupon for Arizona Tea, making them $0.50 each. The great thing about in-ad coupons is that you can combine these with a manufacturer coupon to get free or almost free items. Just make sure to watch for a quantity limit for the coupon (limit 4 in the example above).
Monthly, Walgreen's will have a coupon booklet located at the front of the store. This booklet contains Walgreen's specific coupons (known as IVCs or "instant value coupons") and can be combined with manufacturer's coupons. These help lower the cost of items.
In the example above, the weekly ad is telling you that there is an IVC out for Scott or Cottonelle paper products. Checking a coupon database, there is also a manufacturer's coupon out for $0.75/1 Scott paper towels. This will bring your total to just $3.24!
You can usually find a Healthy Savings Coupon Booklet by the Pharmacy and periodically ad flyer's at the register. You don't need to cut these coupons out, just show to the cashier and she/he will scan the coupon. Each coupon can be scanned over and over until they expire (no need to take more than one booklet!) and one scan will apply to each like item in your transaction.  If you purchase 4 products, you only need one of IVC.
Things to Know
You can purchase multiple DIFFERENT items in 1 transaction and get multiple RR to print. You can't purchase 2 or more of the SAME products in 1 transaction and get 2 or more RR to print.  You must separate RR deals for the SAME item into different transactions to earn a RR for each item.
Example:
Pantene earns $5 RR, Keebler cookies earns $3 RR and Sure Deodorant earns $2 RR. All these items are for DIFFERENT promotions, so they can be purchased in 1 transaction giving you three (3) RR's, totaling $10 RR received in one transaction. However, you can't buy 2 Pantene in the same transaction and earn two (2) $5 RR; you'll only get 1 back. So, Separate items that are the Same!
*You can purchase items that are DIFFERENT and pay with a RR; this is the only way to "roll" a RR. You can't use a RR to purchase items that are the SAME.
You can't use the $2 Sure RR to purchase another Sure, either the register will beep or if it allows it, you won't get another RR printed. The key to lowering your out of pocket expense is to use RR of similar value to pay for DIFFERENT items of similar value.
Example:
You could use the $3 Keebler cookie RR to help pay for the Pantene. Better yet, find 2 items that earn the same value RR and flip flop back and forth between the 2 items.
Example:
Pantene earns $5 RR and Venus Razor earns $5 RR. Buy Pantene in 1 transaction then purchase the Venus Razor in the 2nd transaction using $5 Pantene RR, then purchase another Pantene in 3rd transaction using $5 RR from Razor and so on.
Note: if this is confusing to you, I would recommend switching between using Register Rewards on items that will earn Balance Rewards points and using Balance Rewards points on items that will earn RR. This will keep you from making the mistake of using a Register Reward on the same item or using Balance Rewards on items that are triggering Balance Rewards.
*You MUST have the same total # of items as total # of manufacturer coupons.  Remember that RR are manufacturer coupons!  Store coupons don't count for this.  Use "fillers" (cheap or clearance items) to bring your total # of items up.
Example:
I purchased the Pantene, Keebler and Sure in 1 transaction and had a coupon for each, but I also wanted to use my RR from last weeks Diapers. I have 4 manufacture coupons but only 3 items. I must buy a "filler" item. My kids love to pick candy for good behavior but that can get costly. I had found clearance Chapstick for $0.25 awhile back so I used those as "fillers" for a long time.
You need to hand over coupons in the following order:
#1 Manufacturer's (printable or Sunday's paper)
#2 Walgreens coupons
#3 Register Reward
Cashiers won't usually override and handing the store coupon before the manufacturer coupon can cause the register to beep and cause you to lose a deal. Stick with this order and you should be good.
Walgreens changed their policy recently and no longer allow a "buy one, get one free" coupon to be used with a "buy one, get one free" sale (resulting in both items free). In order to use one BOGO coupon now, you must purchase 4 participating items (2 for the sale and 2 for the coupon).
Where to use your Register Rewards:
Walgreens RR are meant to be used at Walgreens; however, Harris Teeter accepts 1 competitor's coupon per transaction. This can sweeten a deal at Harris Teeter or let you use an RR before it expires (sometimes there are weeks that I really don't want anything at Walgreens, but milk is cheaper at Harris Teeter than at Walgreens.
Further, if you throw away an RR or let it expire, you might as well have taken the cash and thrown it in the trash!
 Don't miss the weekly Walgreens Coupon Matchups!