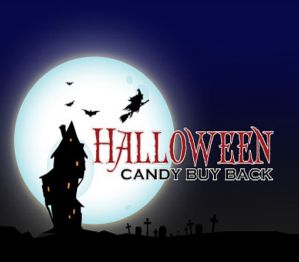 Don't want your child consuming all the candy they get today?  Take it to the dentist and your kids can earn cash for their candy!  The Halloween Candy Buy Back Program supports Operation Gratitude and sends the candy to deployed US Military forces.  Your child will earn up to $1 per pound and support our troops.  See a list of participating dentist here.
A list of location dentists are below:
Hampton
Dailey Orthodontics 2118 Executive Dr Hampton, VA, 23666
Kool Smiles 2165 Cunningham Dr. Hampton, VA, 23666
Newport News
John J Denison, DDS, PC 895 Middle Ground Blvd Newport News, VA, 23606
Norfolk
Kool Smiles 5900 E. Virginia Beach Blvd. Norfolk, VA, 23502
Kool Smiles 2338 East Little Creek Rd. Norfolk, VA, 23518
Portsmouth
Kool Smiles 4072 Victory Blvd. Portsmouth, VA, 23701
Weis Pediatric Dentisty 5915 High Street West Portsmouth, VA, 23703
Virginia Beach
Bay Colony Dentistry Pinewood Square, Suite 506, 32nd Street & HollyRoad Virginia Beach, VA, 23451
Body Logic Massage and Chiropractic 2004 Sandbridge Rd #103 Virginia Beach, VA, 23456
Kool Smiles 4239 Holland Rd. VA Beach, VA, 23452
Partners in Dental Health 317 Edwin Drive Virginia Beach, VA, 23462
The Smile Center 200 Grayson Road Virginia Beach, VA, 23454
My kids dentist has been buying candy back for years, but they aren't on this list.  Talk to your local dentist as well to see if they have a buy-back program.
Thanks, My Active Child for typing up the list of HR locations!