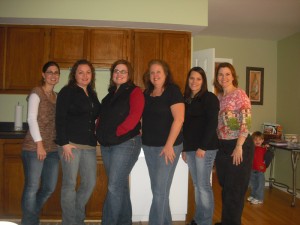 From left to right:
Me (The Coupon Challenge), Laura (A Frugal Chick), Lori (The Coupon Consultant), Karen (Lori's assistant and Coupon Queens of Hampton Roads), Sharon (Mom on Dealz) & Valerie (Dolly Domestic)
I had the pleasure of meeting most of the Hampton Roads area bloggers last week.  It was great to finally meet the ladies I talk to online!  Let me tell you, these women are amazing!  They have amazing blogs and are truly inspirational!
We hope to bring our readers more corroboration from our sites, so stay tuned for great things.  Hopefully we can even organize a blogger/reader meet sometime this summer.  I think that would be fun!