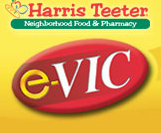 Check your Harris Teeter e-VIC email to see what specials are available to you. E-VIC specials are specific to each household.
Super Doubles starts Sunday!
What are e-VIC coupons?
E-VIC Coupons are electronic coupons and promotions available to you through the e-VIC program. When you purchase the qualifying products and when your purchase meets the redemption requirements of an e-VIC Coupon, the savings are automatically applied to your order. Paperless coupons will be redeemed for face value only and are limited to 1 usage per transaction.
You must register online to participate in the e-VIC program.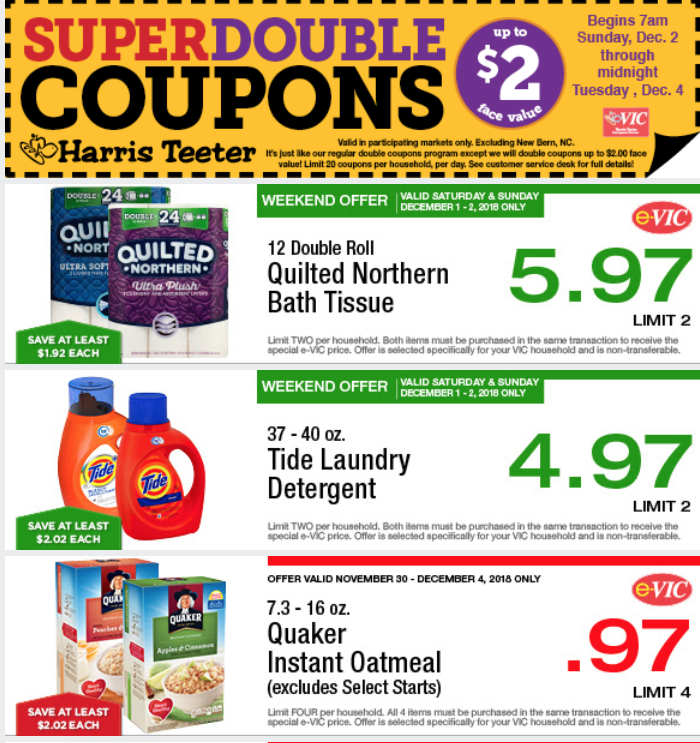 *This is our last week of hosting matchups*
Quilted Northern Bath Tissue, 12 ct double roll $5.97 *Weekend Offer*
Limit 2
$0.50/1 Quilted Northern Bath Tissue; Sign Up with Email Address to Access Coupon
$0.50/1 Quilted Northern Bath Tissue – 11-11-18 RMN; Includes 6 Double Roll or Larger Only (exp 12/11/18)
$1.00/2 Quilted Northern Bath Tissue – 11-11-18 RMN; Includes 6 Double Roll or Larger Only (exp 12/11/18)
Final: $4.97 each
Tide Laundry Detergent, 37 – 40 oz $4.97 *Weekend Offer*
Limit 2
$2.00/1 Tide Detergent; Includes 72 oz or Less Only; Excludes Trial and Travel Size; Upon Printing You Must Redeem within One Day
$1.00/1 Tide Detergent – 11-25-18 PG; Excludes PODS, Simply, Rescue, and Detergent, 10 oz; Excludes Trial and Travel Size; Limit of 2 Identical Coupons Per Household Per Day (exp 12/29/18)
As low as $2.97 each or $0.97 each during Super Doubles
Quaker Instant Oatmeal, 7.3 – 16 oz $0.97
Limit 4
$1.00/2 Quaker Products – 11-4-18 RMN (exp 12/16/18)
1% Quaker – Fetch Rewards Rebate; Points may vary by value
HT Sugar, 4lb $0.97
Limit 2
Yoplait Yogurt, 4-6 oz $0.37
Limit 12
$0.50/5 Yoplait Yogurt (Harris Teeter eCoupon) (exp 12/14/18)
Silk Soy Milk, 32 oz $2.77
Limit 4
$1.00/1 Silk Milk
Final: $1.77 each or $0.77 each during Super Doubles
Pillsubry Toaster Strudle, 7 oz $1.7
Limit 4
DeVour or SmartMade Entrees, 7.5 – 12 oz $2.77
Limit 4
1% Devour – Fetch Rewards Rebate; Points may vary by value
1% Devour – Fetch Rewards Rebate; Points may vary by value
See more Harris Teeter Weekly Ad Matchups before heading to the store
You might also like: