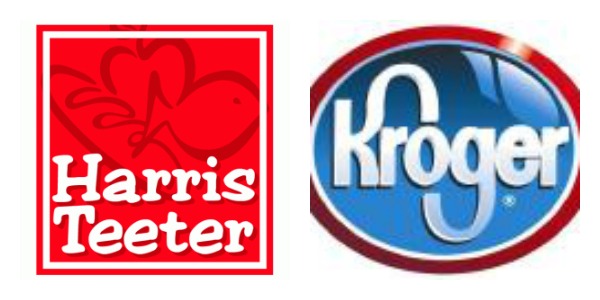 It was officially announced today that Kroger will be purchasing Harris Teeter.  According to the press release there has been "a definitive merger agreement under which Kroger will purchase all outstanding shares of Harris Teeter."
How will this affect Harris Teeter Shoppers?  Harris Teeter is said to continue to operate its stores as a subsidiary of Kroger with no plans to close stores.  However, I doubt double coupons will continue, but we will have to wait and see. Kroger recently stopped doubling coupons in the Mid-Atlantic regions (coincidence? I don't know.)  Will this affect Farm Fresh doubling coupon?  I just don't know.
I love the Harris Teeter brand products and hope that doesn't change.  Again, we will have to wait and see, but according to the Harris Teeter CEO, "We are excited about becoming part of The Kroger Co., one of the best food retailers in the U.S. while maintaining the Harris Teeter banner, our management teams, our new store growth plan, our distribution and manufacturing facilities in North Carolina as well as our headquarters in Matthews, NC."  This sounds like the we may continue to see HT brand products since the distribution and manufacturing facilities will remain open.
We will have to wait and see what changes this new merger has on our shopping.  Personally, I would have preferred a new store join the area such as Publix, Wegmans or Aldi but only time will tell the changes we will see as Harris Teeter coupon shoppers….
Updated with letter from Harris Teeter:
Dear Harris Teeter Customer,

Harris Teeter announced today that it is merging with Kroger. While a contract has been signed, the merger will not be complete for a few months. We announced in January that we were going through a process of looking at strategic options; this announcement completes that process.

While details are still being finalized, we can tell you our name will remain Harris Teeter; our own brands will continue to reflect our name; Boar's Head Brands will be in our Deli and the same high-quality Angus Beef will be sold in our meat departments. We do not anticipate any Associate changes with this merger, so rest assured you should find your favorite meat cutter, cake decorator or cashier at your Harris Teeter. We will continue to be committed to delivering excellent customer service and outstanding quality. You will continue to find fast check-out lanes and friendly Associates when you visit your Harris Teeter store.

Kroger is the second largest food retailer in the US with sales approaching $100 billion. By joining them, we will become even more efficient in our ability to deliver outstanding value to our customers. In addition, they will provide growth opportunities for our company and our associates.

We appreciate your business and support over the years. Your loyalty is valued more than you will ever know. Rest assured it is the desire of both Kroger and Harris Teeter to only make Harris Teeter better through this merger for many years to come.

Sincerely,
Fred Morganthall

President & Chief Operating Officer
What do you think of the merger?