I just wanted to do a quick post today from my Harris Teeter shopping trip Wednesday.
There were some pretty good deals to grab, even without coupons (like $1.99/lb. ground beef, $.79 eggs and $.99 organic baby carrots!) and since I had a $10 off $50 coupon that they mailed me, I went ahead and did a "big shop" for stock up priced items and a few things we needed: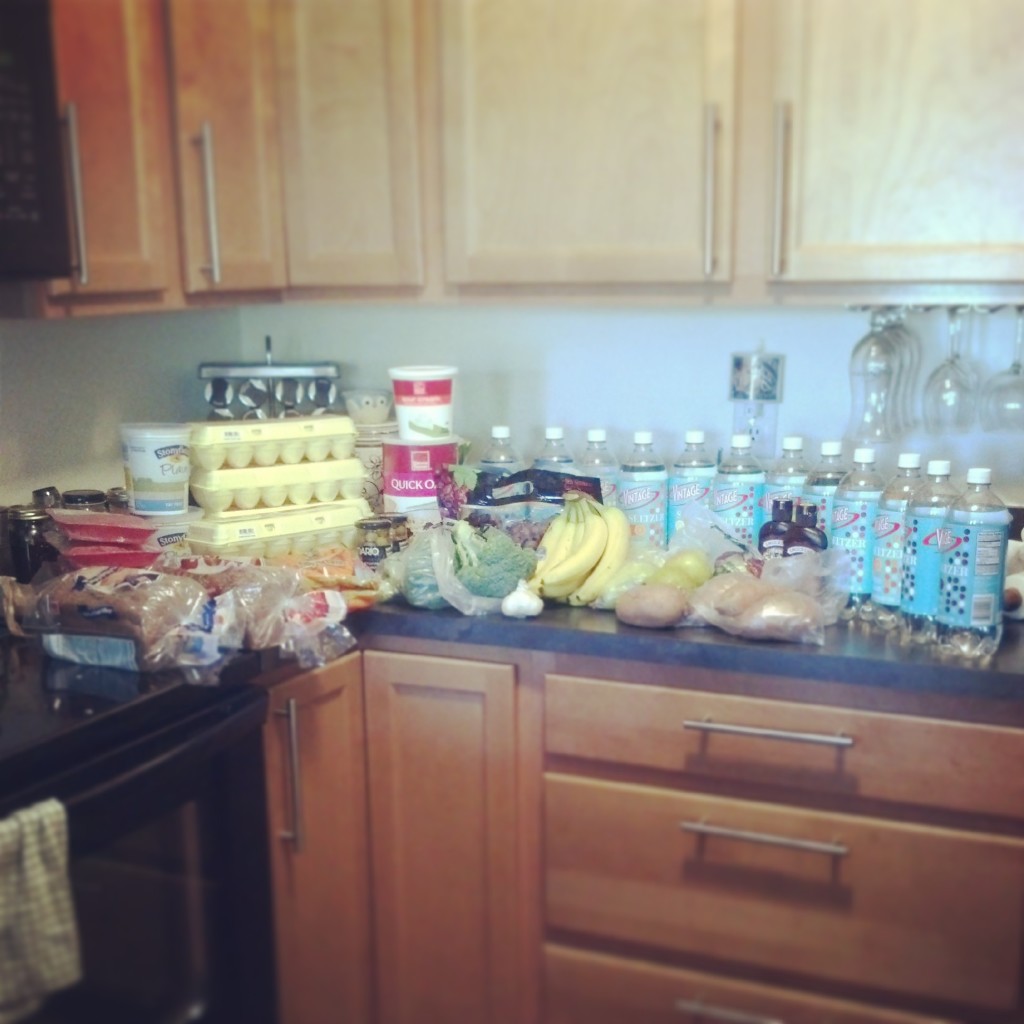 I got:
3lbs Grapes
2lbs Broccoli
8 Bananas
2 bags of Organic Baby Carrots
1 Garlic
5 Pears
5 Sweet Potatoes
Bag of Lemons
5lbs Ground Beef
6 Dozen HT Eggs
24oz. HT Sour Cream
2 Stonyfield Organic Fat Free Plain Yogurt
2 HT Wide Pan Whole Wheat Bread
1 Lg. HT Quick Oats
12 1L Vintage Seltzer
2 Mario Olives
2 Smucker's Magic Shell 
Total: $44.51 (a savings of 56%!)
Couponers aren't just buying processed/packaged foods – despite what some my think. You CAN eat fresh fruit and veggies, meat and dairy AND save money. You just have to be a strategic shopper. My trips are normally $10-$20, so spending $44 at once was a little shocking for me. But, between my husband, kids and I, we eat 6 eggs for breakfast – so a dozen eggs doesn't last long in our house. I stock up when they are under $1. I have been craving hamburgers recently (I usually do while pregnant – the iron, maybe?) so the stock up priced beef was awesome. Since Wednesday, we've eaten all the broccoli, half the bananas and are having sweet potatoes tonight. I pretty much stick to buying in-season or on sale produce. I LOVE LOVE LOVE my Vintage Seltzer and always try to stock up when its on sale. I am slightly addicted to ice cream and have a new obsession with Magic Shell topping . . . . and since they were FREE after coupon, I couldn't say no 🙂
While I do use coupons buy items that come in boxes, like cake mixes (in my opinion, they taste the best!) taco shells, crackers, granola bars and fruit snacks – I am happiest when I can save money buying "perimeter" grocery items – meat, dairy, bakery and produce.
How about you? What are your tips and tricks to eating healthy and using coupons? 
If you're headed to Harris Teeter to grab any of the great deals listed above, be sure to check our your weekly EVIC specials, too!