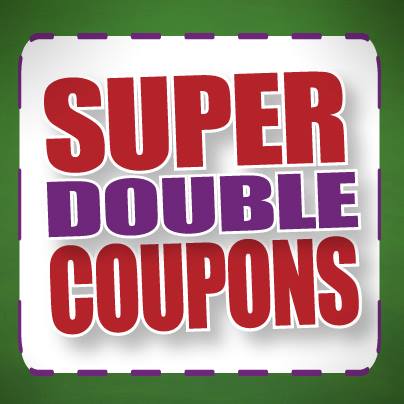 Harris Teeter will LIKELY have a Super Double coupon event starting April 15th! I haven't seen the ad yet, so I'm not saying 100%.  I'm hearing conflicting dates, but can pretty much say that is will be within 2 weeks.
Below is a starter list of printables.  If you want these regular priced deals, print now.
See Tips for Shopping a coupon event if this is your first time shopping Super Doubles!
Double coupons up to and including $2 only.
Limit 20 coupons per day.
Limit 3 like coupons per transaction and 3 like 

printables

 per transaction.
VIC Card required for sale prices and double/triple coupons.
No internet

printable coupons

accepted for "FREE" items or B1G1 Free items.
B1G1 items ring at half price.
"No orders may be separated that would allow the 20 coupon limit to be exceeded or any other coupon limits to be exceeded".
Don't forget to check your e-VIC coupons and load them onto your card.
Get the Harris Teeter Coupon Policy.
See the list of Harris Teeter Super Doubles Past Event Coupon Schedule.
Tasty Bite Rice Pilaf $2.39
$1/1 printable or printable
Final: $0.39 each
Dole Canned Pineapple, 8 oz $1.25
Buy 3 and use $1/3 printable
Final: $0.58 each wyb 3
Chobani Greek Yogurt Cups $1.33
Buy 3 and use $1/3 printable
Final: $0.66 each wyb 3
Chobani Simply 100 Cups $1.33
Buy 3 and use $1/3 printable
Final: $0.66 each wyb 3
Orgain Shake, 11 oz $2.69
Use $1/1 printable
Final: $0.69 each after doubled coupon
Gerber Graduates Meals (select varieties) $1.79
Buy 3 and use $1/3 printable
Stack with $1/3 HT e-VIC coupon
Final: $0.79 each wyb 3
Liberte Yogurt Cup $1.20
Use $0.20/1 printable
Final: $0.80 each
Chobani Flip Yogurt Cups $1.50
Buy 3 and use $1/3 printable
Final: $0.83 each wyb 3
Yoplait Greek Yogurt $1.33
Buy 5 and use $1/5 printable
Final: $0.93 each wyb 5
Gillette Long Lasting Deodorant $2.99
Use $1/1 printable
Final: $0.99 each
Hormel Rev Wraps $1.99
Buy 2 and use $1/2 printable
Final $0.99 each wyb 2
P3 Portable Protein $1.99
Buy 2 and use $1/2 printable
Final $0. 99 each wyb 2
Planters Peanuts 6 oz $1.99
Buy 2 and use $1/2 printable
Final $0.99 each wyb 2
Old El Paso Refried Beans $1.69
Buy 3 and use $1/3 printable
Final: $1.03 each wyb 3
Uncle Ben's Country Inn Rice 6 oz $1.69
Buy 4 and use $1/4 printable
Final: $1.19 each wyb 4
Friskies Party Mix Cat Treats $1.89
Buy 3 and use $1/3 printable
Final: $1.22 each wyb 3
Old Spice Deodorant  $3.29
Use $1/1 printable
Final: $1.29 each
Ancient Harvest Quinoa Pastas $3.49
Use $1/1 printable
Final: $1.49 each
Warheads Sour Jelly Beans, 14 oz $2.49
Buy 2 and use $1/2 printable
Final: $1.49 each wyb 2
Hormel Compleats $2.99
Buy 3 and use $1.50/3 printable
Stack with $1.50/1  HT e-VIC coupon
Final: $1.49 each wyb 3
International Delight Coffee Creamer $3.55
Use $1/1 printable
Final: $1.55 each
Pillsbury Sweet Rolls $2.19
Use $0.40/2 printable
Stack with $0.40/2 HT e-VIC coupon
Final: $1.59 each wyb 2
Speed Stick GEAR Deodorant $5.69
Use $2/1 printable
Final: $1.69 each
Seventh Generation Dish Soap $3.69
Use $1/1 printable
Final: $1.69 each
Saffron Road Sauces (several varieties) $3.79
Use $1/1 printable
Final: $1.79 each
Alexia Sides $3.85
Use $1/1 printable
Final: $1.85 each
Farm Fresh Mozzarella Cheese Sticks 10 oz $4.39
Use $0.75/1 printable
Final: $1.89 each
Old Orchard 100% Juice $2.99
Buy 2 and use $1/2 printable
Final: $1.99 each wyb 2
Pantene Hair Care $4.45
Use $1/1 printable
Final: $2.45 each
Joint Juice 48 oz $6.49
Use $2/1 printable
Final: $2.49 each
Got2B Styling Products $6.79
Use $2/1 printable
Final: $2.69 each
Smuckers Fruit Fulls $4.99
Use $1/1 printable
Final: $2.99 each
Secret Clinical Deodorant $7.49
Use $2/1 printable
Final: $3.49 each
Mama Mancini's Meatballs, 22 oz $7.49
Use $2/1 printable
Final: $3.49 each
Eight O Clock Coffee, 12 oz $6.95
Use $1.50/1 printable
Final: $3.95 each
Clairol Natural Instincts Non-Permanent Hair Color $8.99
Use $1.50/1 printable
Final: $5.99 each
Vidal Sassoon Pro Series Hair Color $9.99
Use $2/1 printable
Final: $5.99 each
Orgain Shake, 4 pk $9.99
Use $2/1 printable
Final: $5.99 each after doubled coupon
Viactiv Calcium Plus Soft Chews, 60 ct $8.99
Use $2/1 printable
Final: $5.99 each
Renu Contact Solution $10.19
Use $2/1 printable
Final: $6.19 each
Seventh Generation Laundry Detergent, 100 oz $13.99
Use $2/1 printable
Final: $9.99 each