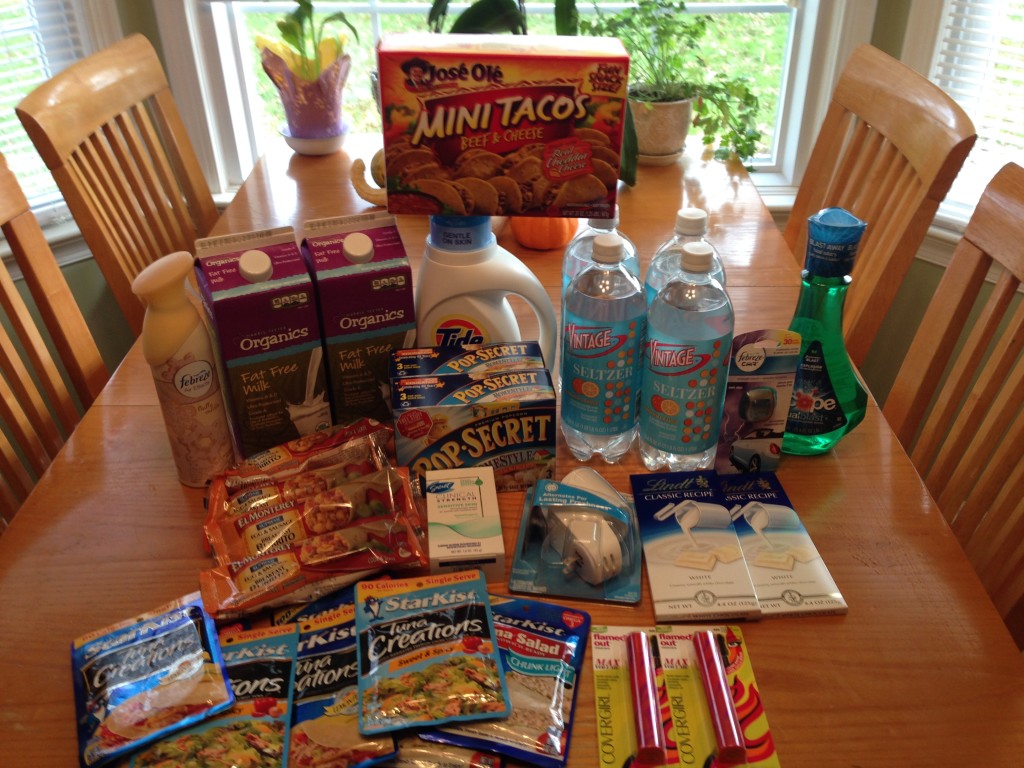 I'm super excited about my Harris Teeter Super Doubles shopping trip this morning!
I scored awesome deals and it's a great example of how coupons can help you save on items that everyone uses – not just junk food.  I purchased laundry detergent, deodorant, makeup, tuna, water and more for super cheap; even FREE!  Coupons aren't all fruit snacks and boxed meals as some skeptics claim 🙂
One thing I made sure to do today was to use the coupons that expire tomorrow.  I then moved on to a few things that I thought might sell out like the mascara, burritos and popcorn.  I also grabbed the tuna pouches today,  so I could throw them in hubby's lunch this week.
Thinking ahead to Christmas, the white chocolate has now been put away for hubby's stocking – one of his all time favorite foods is white chocolate 🙂
See all the Harris Teeter Super Doubles Deals here.
2 HT Organic Milk Half Gallon = $7
1 Febreze Noticables = $2 moneymaker after e-VIC coupon
4 Vintage Seltzer = $1 moneymaker after e-VIC coupon
1 Scope Rine = $0.51 moneymaker after e-VIC coupon
2 Covergirl Flamed Mascara = FREE
1 Secret Clinical Deodorant = FREE
4 El Monteray Burritos = FREE
2 Pop secret = FREE
2 Lindt white chocolate bars = FREE
1 Febreze Air Effects = FREE
1 Febreze  Car Vent = FREE
4 Starkist Tuna Creations = $1
4 Starkist Tuna Salad = $2
1 Tide Detergent = $0.99
1 Jose Ole Mini Tacos Box = $1
Total Paid = $9.87
Total Saved $97.24
Please note that Harris Teeter doesn't give cash back so if you have items that are going to be a moneymaker after the e-VIC coupon, you need to have other items to cover the overage.
*The Hanbury store  in Chesapeake is well stocked.  Everything seems to still be in stock at 10am and they had lots of endcaps, displays and extra boxes of items around the store.
How did you do?