You must shop at the Virginia Beach Whole Foods store to enter the giveaway!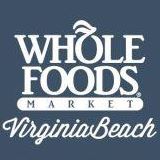 School is one week away!
It's time to start thinking about healthy school breakfasts and snacks.  Kids need energy to learn and starting off with a healthy breakfast and having healthy snacks at school are a must!
One of the great things about Whole Foods is their Bulk Bins.  You can find healthy foods for a fraction of the cost of prepackaged items.  Let the kids try out a little bit of different items to see what they like.  Kids LOVE having control, so let them take control of the healthy foods they eat.  Plus, you can get just the right amount so your not wasting food.
Next time you're at Whole foods, let your kids experiment with new foods at the Bulk Bins.  I made my kiddos a great Trail Mix that's perfect for lunch and snack time.  Kids can pick their own items to come up with a mix of savory and sweet, but a few ideas are below to get you started: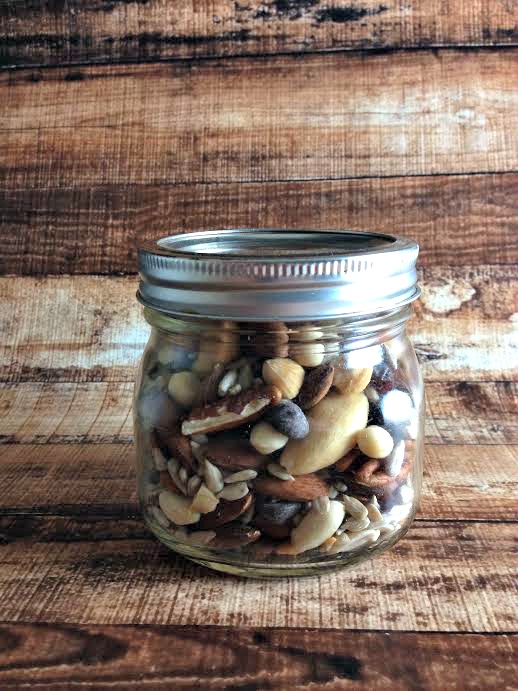 Build Your Own Tail Mix:
Choose 4-6 items (between 1/4 – 1/2 cups of each as desired)
Nuts (try a little of several varieties)
Seeds
Dried Fruits
Yogurt Pretzels
Granola
Whole Grain Cereal Pieces
Chocolate chips
A few of these items can't be found in the bulk bins, but you can get the majority of your ingredients in this section of the store.  My kids trail mix consisted of various nuts, seeds and dried fruits.  I then added in a bit of mini chocolate chips from home when I combined all the ingredients.   Once everything was mixed, I separated into snack size portions for an easy grab and go snack.
For breakfast, try Overnight Oatmeal.  Get everything ready before bed, refrigerate, and it's ready for a quick and delicious breakfast before school.  Oatmeal is a great breakfast choice because it's hearty and will keep kids full longer.
Ingredients:
2 cups rolled oats (not instant or quick cooking)
2 cups lowfat milk
1/2 teaspoon Vania extract
1/4 cup chopped pecans, almonds or walnuts
Fresh or dried fruit of choice
Honey or maple syrup for drizzling
Directions:
Combine oats, milk and vanilla in a bowl, cover and refrigerate overnight
The next morning, school oatmeal into bowls (heat in microwave if desired)
Top with nuts or fruit.
Drizzle a little honey or maple syrup if desired.
Another good make-ahead breakfast is Apricot and Strawberry Oatmeal:
Serves 4-6 (doubles well for more breakfasts)
1/2 cup hazelnuts
1/2cup rolled oats
1/8 teaspoon salt
4 tablespoons cold, salted butter, cut into chunks (cold coconut oil works well too)
1/3cup honey (or maple syrup)
6 apricots, pitted and quartered
8 ounces strawberries, hulled and quartered
yogurt of your choice, for serving
Heat your oven to 400F. To make the crisp topping combine the hazelnuts with 1-2 Tbs. of the oats in a food processor and process until they reach the consistency of a coarse flour. Keep an eye on it to make sure you don't process it all the way into a paste.
Add the remaining oats, salt, cold butter, and honey and pulse just until a chunky mixture forms.
Combine the quartered apricots and strawberries in a baking dish large enough to hold them in a thick layer (I usually use a gratin dish or a pie plate). Drop spoonfuls of the topping evenly over the top of the fruit.
Bake in the oven until the fruit is bubbling and the topping has browned, about 30 minutes. Allow to cool, then store in the refrigerator and dole out for breakfasts over the following days.
Serve a scoop of crisp (you can warm it up a bit first, or eat it cold) with a couple scoops of yogurt.
One more healthy breakfast idea is Apple Berry Baked Oatmeal.  Don't forget about the bulk bins to get just the right amount of each ingredient you need.  The kids might be more inclined to try a new recipe if they helped scoop the ingredients and were able to pick out their own toppings.
Now that you have a few oatmeal recipes for breakfast and an easy snack idea, it's time for the giveaway….
The Giveaway
Whole Foods Market is offering a $25 Whole Foods Gift Card to help your kids eat healthy!
The winner will be selected at random.  The winner will be contacted via email after the close of the giveaway. The winner will have 24 hours to respond to my email or a new winner will be selected. Entry for this giveaway will close on September 8th at 8pm EST.
**Leave a separate comment for each entry method!  Mandatory entry MUST be completed.
Mandatory Entry Method:
Leave a comment here telling me your favorite healthy school snack or breakfast.
Extra Entry Methods:

Disclosure:  I received a Whole Foods Gift Card to purchase ingredients for the recipes above.  No other compensation was received.  All opinions are 100% my own and may differ from others.
Recipes were found in-store at Whole Foods or online.
**You must shop at the Virginia Beach Whole Foods store to enter the giveaway!  You don't have to live in Virginia Beach, but you must shop at this location.  You will be required to pickup your card in-store if you are a winner.