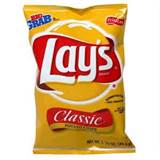 *HOT*  $1.00/1 Lays Potato Chips!!
If you requested the Lay's coupon that I told you about last week, check your emails for your coupon OR try this Lays Potato Chips link to get the coupon.   Make sure to print out two of these.  This will definitely make for a really great deal!
Thanks Cuckoo for Coupon Deals!