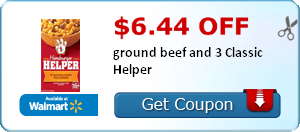 *HOT* $1.00/2 Hamburger Helper Coupon Reset + Ground Beef Rebate Still Valid!
If you missed this last time, the high value coupon for 1.00 off TWO BOXES any flavor Hamburger Helper has reset!   It will stack nicely with the $6.44 off ground beef and 3 Classic Helper mail in rebate to get you a good deal after coupon and rebate (less than $4 for ground beef and 3 boxes of Hamburger Helper)!
**Please note that you must shop at Walmart to redeem the MIR offer!