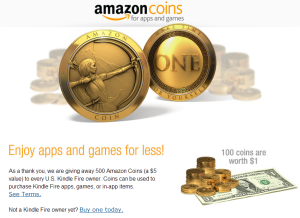 "We just launched our Amazon Coins program, which means U.S. Kindle Fire owners get 500 free Amazon Coins (a $5 value) to spend on apps and games. How do you like them app-les?
WOW! If you own a Kindle Fire, see if you have the following offer automatically in your account!
Dear Customers,
If you own a Kindle Fire, you'll find a little unexpected something in your account right now — 500 Amazon Coins, worth $5. You can use the coins to buy apps and games, as well as items inside apps and games. And if you want to purchase additional coins for yourself or your family, you get to do so at a discount."
Check the Amazon App Store to see if you got your coins. I clicked on an app that cost $1.99 and it asked if I wanted to use my 1-click settings or redeem 199 coins, sweet!
Fine Print:
Amazon Coins – Promotion Terms.
Last updated: May 13, 2013
1. Limit one bundle of 500 promotional Amazon Coins per customer. If you already have a Kindle Fire and have received promotional coins, you will not receive additional coins with future Kindle Fire purchases.
2. Promotion is available only to U.S. customers.
3. Promotion expires December 31, 2013 at 11:59 PM PST.
4. Amazon Coins can only be used to purchase eligible products through the Amazon Appstore. Coins are not transferable and cannot be redeemed for cash.
5. Your 500 Amazon Coins expire on the last day of the calendar month one year after we give them to you (for example, promotional Amazon Coins we give you on May 15 will expire on May 31 of the following year).
6. Your use of Amazon Coins is subject to the Amazon Coins Terms and Conditions and the Amazon Appstore for Android Terms of Use.
7. This promotion is void where prohibited by law.
8. We reserve the right, in our sole discretion, to terminate or modify this promotion at any time without notice.