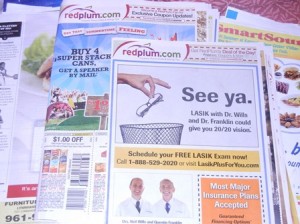 I'm super excited about this!  Hampton Roads locals can get extra Sunday papers for $0.75 each!  This is a great deal for delivery! 
If you're not in HR,  call you're local paper and ask what rate they could sell you an extra paper.  They're already delivering to you, so they might as well make a few extra dollars!
1.  Subscribers of The Daily Press in southeastern Virginia can get additional copies of the newspaper for $0.75 by calling 757-247-4839.  You can get up to 10 copies of the paper delivered for a period of 26 weeks or 52 weeks. The special subscription price is for prepaid customers only.
2.  Subscribers of The Virginian Pilot can get the Sunday and Wednesday paper for only $0.75 by going to THIS website.  You can get up to to 9 extra copies of the Sunday and Wednesday paper. 
The Dollar Tree newspaper price is obviously $1 and the price is $2 at other stores.  With the influx of new coupon users, getting the Sunday paper (with the inserts still in them!) has become more difficult.  Now you can just walk out in your jammies and spend less money!  Sounds like a good deal to me!
FYI:  I get the Pilot and plan to order 2 more subscriptions.  That will bring me up to 5 insert a week. 
Thanks, A Frugal Chick!