My blogging buddy Lauren over at Luxury Living Frugal Style has written a series of posts regarding the latest episode of Extreme Couponing on TLC.  While I think the show makes for good TV, I do wish they would add a disclaimer that results are not typical & stores have coupon policies and limits that were waived for the show (if applicable). 
I'm not trying to start a heated debate, but I do feel that I should post one of her articles to make sure couponers (especially those who are new to the game) know that is important to use the coupons as intended and specified by the manufacture.  We all make mistakes but national television is not the place to use coupons incorrectly.  It is the stores prerogative to allow coupon limits to be exceeded, but I doubt the manufacturers agreed to have there coupons used outside of the written manner. 
I work hard to share with you matchups within manufacture guidelines.  I have written an article on ethical couponing.  I feel strongly about this subject, so here is an unfortunate example of how coupons should not be used:
You can see more of my posts on this issue, at Luxury Living Frugal Style at www.midgetmomma.com here, here and here
I am sure all of you feel the same way I do about shopping, planning it important! We write lists and put what coupons we have to use next to the NAME of what we are buying…..well J'Aime doesn't….look at this list!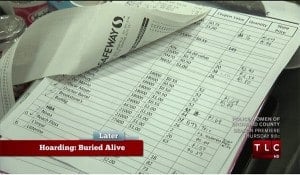 Who the heck makes a list that looks like this??? NO PRODUCT NAMES just manufacturer names and codes, well there is only one conclusion to come from this….SHE IS USING COUPONS ON THE WRONG PRODUCTS! I am not going to get into coupon decoding, it is illegal and wrong and NOT the way couponers should use coupons. This is NOT the way REAL couponers USE coupons!
On her shopping trip, there were multiple times that she used coupons for items that SHE DID NOT EVEN BUY!
One example is Buddig lunch meat—I buy this lunch meat, I have NEVER seen a $1 off coupon that can be used on the SMALL packages! I have seen both insert ones ($1/4 2oz and $1 off 12-16oz) and the one that is $1 off a 16oz package that comes on the label of the package.
Here is what she bought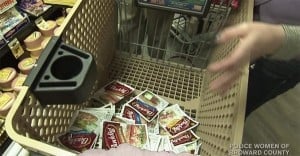 Here is the coupon used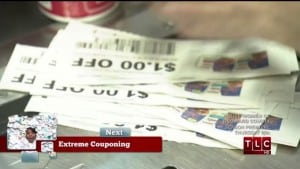 This coupon is for $1 off of 1 12-16 ounce package! The ones she bought are 2 oz packages (the size difference in the packaging alone should be obvious)

I am not going to go in to all the fraud she committed while on the show, there is no reason to, FRAUD is FRAUD! And STEALING is STEALING, no matter how much or how little!
I know I personally have had issues when using the RIGHT coupons on the RIGHT products!
Feel free to share your thoughts. Please remember to use your "big girl" words.  Unnecessarily mean/rude comments will be deleted.
Thank you to Jillcataldo.com for the images.
This post is a reprint with permission