Welcome to the 5th annual Ultimate Blog Party! I hope you all are enjoying the party! Since all the parties I attend lately involve my little munchkins, here is a picture of them enjoying cake at our latest bash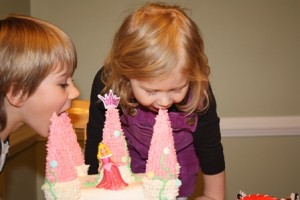 About Me:
I'm Dana, the writer behind The Coupon Challenge.  I enjoy blogging about ways to save money through coupon use, store matchups (matching sale ads with coupons), freebies, giving frugal advice, cooking and much more.  When I'm not blogging, you can find me shopping for a good deal, playing with the kids (preferably outside if the weather is nice) or spending time with my husband and friends. 
This is a picture of my kids enjoying the castle cake we made my daughter in March for her 4th birthday. 
~I also sponsored a $25 Amazon Gift Card for the event, so make sure to check out the Ultimate Blog Party site for that prize!
While you're visiting, be sure to check out my current giveaways where you will see TONS of giveaways from The Coupon Challenge and my blogging buddies in an eco-friendly event going on the ENTIRE month of April! Get all the details HERE!
*I just posted a giveaway from the Vintage Pearl that's a must enter!
You can also enter for a chance to win an HD 4G Flip Cam (ends 04/03) and Purex Complete with Zout (ends 04/02)
Make sure to check back on April 6th to enter my Bare Minerals giveaway as well (2 winners)!! 
Let's party!
If you stop by, leave me a comment so I can return the favor