If you're planning to make Irish Soda Bread for St. Patrick's Day, this is a great recipe to try.  You can make 1 large loaf or cut in half to make 2 smaller loaves which would be great for serving at multiple meals.
Ingredients:
4 cups all purpose flour
2 Tbsp sugar
1/2 tsp salt
1 tsp baking soda
2 tsp baking powder
1/2 cup of oil or a stick butter or margarine (I used butter)
1 c raisins
1 c buttermilk
2 eggs
Directions:
1. Sift together dry ingredients. Cut in the butter until mixture resembles course crumbs.
2. Mix egg and buttermilk together and then add to flour mixture.
3. Stir flour mixture until a soft dough forms. Add raisins. Turn out dough onto a floured surface and knead lightly.
4. Shape into one large round loaf or divide dough in half and shape into two round loaves.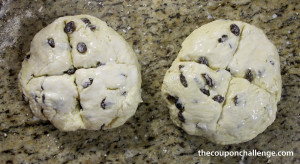 5. Flatten top and brush with oil or buttermilk.
6. With a sharp knife  cut a "x" into the loaf or loaves.
7. Bake in a 350 degree oven for 30 to 45 minutes until a toothpick inserted comes out clean.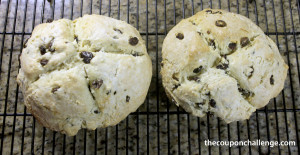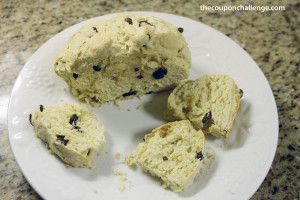 A special thanks to my mother-in-law, Josephine who provided me with this family recipe many years ago.