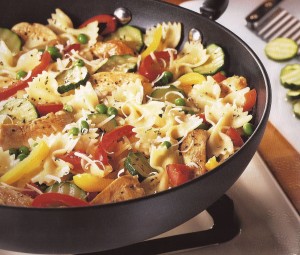 This is one of my favorite Pampered Chef recipes from the Casual Cooking Cookbook.  It's easy to make & everyone in my family loves it! 
Ingredients
6 oz. Bow tie pasta (about 3 cups)
2 Plum tomatoes, diced
1 small onion, chopped
1 medium zucchini, sliced
1 Pepper  (yellow or red) cut into thin strips
4 Chicken breasts cut into 1 in. strips
2 tsp. Olive oil
2 large garlic cloves, pressed
1/2 c. Frozen peas
1 tsp. Italian Seasoning Mix
1 tsp. Salt
1 oz. (1/4 cup) Parmesan cheese, grated
Preparation
1. Cook pasta according to package directions, drain & keep warm.
2. Meanwhile, dice tomatoes, chop onion, slice zucchini, cut bell pepper into thin strips and chicken crosswise into 1-in strips.
3. Heat oil in Stir-Fry skillet over medium-high heat until hot. Press garlic into skillet. Add chicken. Stir-fry 5 minutes or until chicken is no longer pink. Reduce heat to medium. Add onion, zucchini, bell pepper, peas, seasoning mix and salt; stir-fry 2 minutes. Add tomatoes; heat 1-2 minutes, stirring gently until heated through. Remove from heat.
4. Stir in warm pasta. Grate Parmesan cheese, sprinkle over pasta. Serve immediately.
Makes 6 servings
*When tomatoes are out of season, substitute 1 can (14.5 oz) diced tomatoes, drained, for the fresh tomatoes.
*I typically use left over crock pot chicken instead of chicken strips