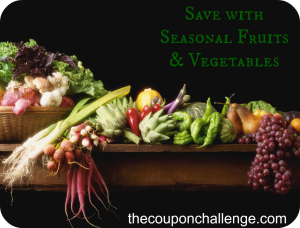 June Seasonal Fruits & Vegetables
One of the best ways to save money on Fruits & Vegetables is to buy what's in season.  Also, you'll want to stock-up and freeze or can some for later use when you come across a good sale so that you can have a variety to choose from through-out the year.
One of my favorite things to do when apples are in season and cheap is to make homemade sugar-free cinnamon applesauce!  I also freeze all types of berries and pineapples for my protein smoothies.
Here's what to look for on sale this month at your local Grocery Store and Farmers Markets:
FRUITS
VEGETABLES
Apricots
Blackberries
Blueberries
Boysenberries
Cherries
Grapes
Honeydew
Nectarines
Peaches
Raspberries
Strawberries
Watermelon
Corn
Cucumber
Eggplant
Potatoes
Red Onions
Summer Squash
Vidalia Onions
Tomatoes