Do you follow The Coupon Challenge on Facebook? Great deals are posted ALL day long on our Facebook page and we want you to see every one.
If you're like me, you probably follow a few different coupon blogs by "LIKE"ing them on Facebook. Do you ever wonder if you missed a great deal or a good coupon because you didn't see the post announcing it in your Newsfeed? Does the Facebook miss the mark when it comes to showing you relevant information in your Newsfeed? As in NOT showing you all the **HOT** deals posted by The Coupon Challenge, and instead filling your Newfeed with, say, puppy photos or farm animal game requests?
After a few months of being frustrated about this (the posts from Facebook Pages I "LIKE" being mixed in with posts from my family and friends, thus causing me to miss out on good deals) I came up with a solution. It really helps consolidate all my family and friend's posts into one Newsfeed and my "Coupon Blogs" into another. Now, I get to check TWO exciting Newfeeds everyday . . . ooooor every time I log into Facebook which is many, many times a day :o. One is filled with updates about my niece and nephew and my friend's lives,  and another is filled with GREAT deals from my favorite coupon blogs – and since I see every single post I KNOW I'm not missing any deals.
Here's how to do it:
Setting Up a "Coupon Blog" Interest List on Facebook
1. First, make sure you "LIKE" The Coupon Challenge on Facebook. Go HERE to do that.
2. Then, hover over the "LIKE" button at the top of the page. When the menu box pops up, click "Add to Interest Lists…":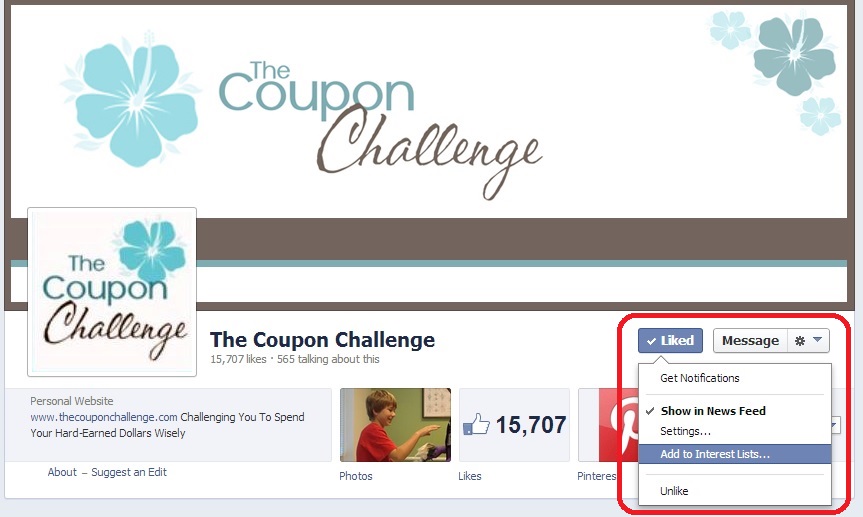 3. Then, click "+ New List…":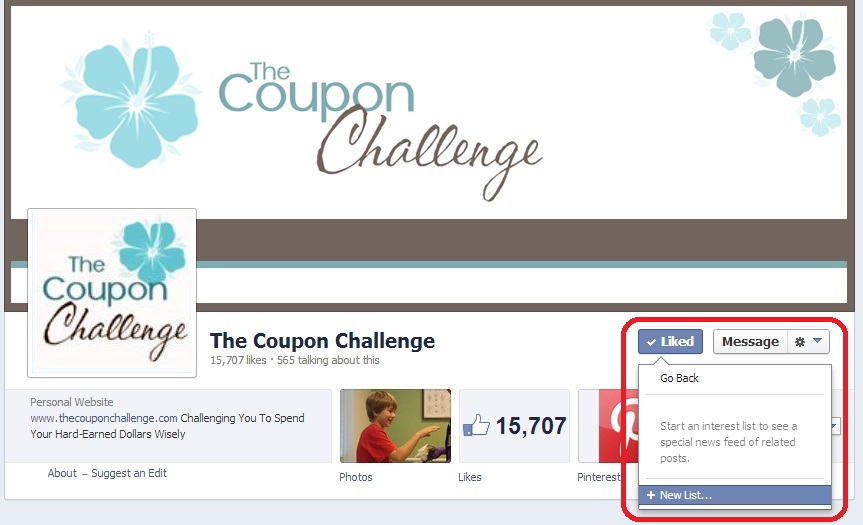 4. At this point, you can click "Next" or click through the sidebar options to add more Pages to your Interest List. I would suggest adding only a few coupon blogs you really like. When you add more than 20 you'll end up NOT seeing all the posts from the Pages on your Interest List because Facebook will decide which ones to show you. You'll also see a lot of repeat deals, so pick just a few, preferably local-to-your-region Pages that highlight the best deals for you and your needs. When you've added all the Pages you want, click "Next":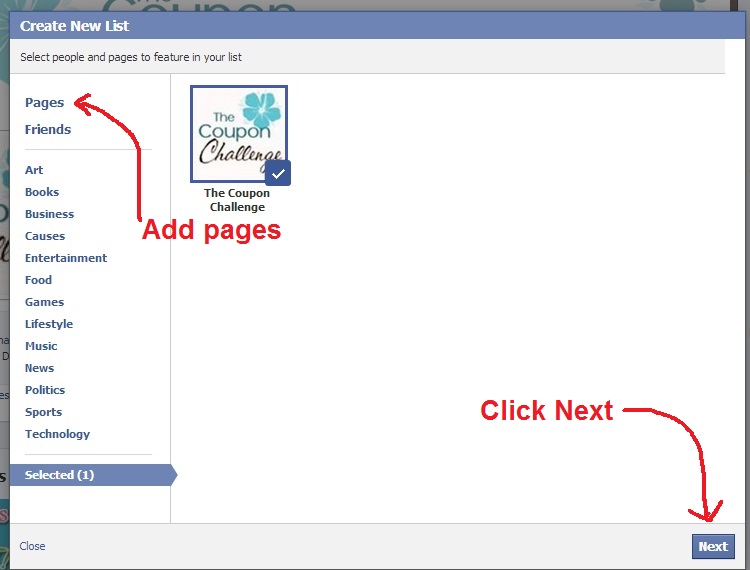 5. The last step is to name your Interest List. I was super creative and named mine "Coupon Blogs" 🙂 and to set your privacy setting. I usually go with the most private settings ("Only Me"). Once you do that, click "Done"!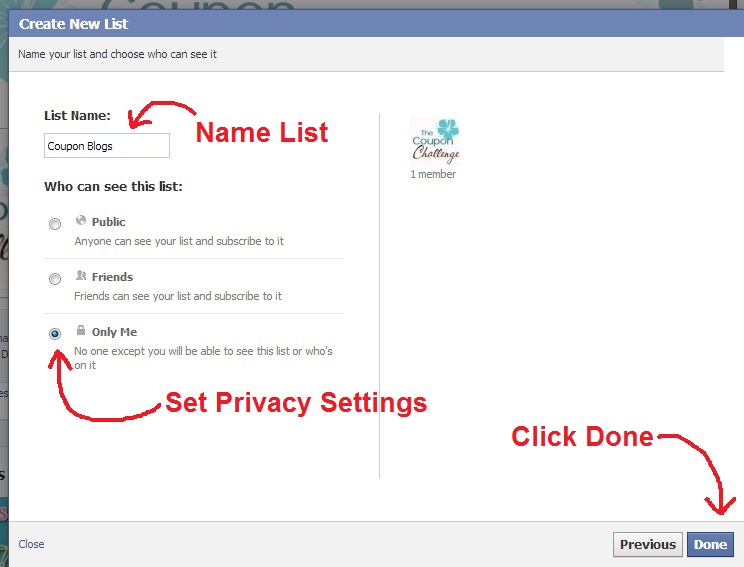 6. The next screen should look like this: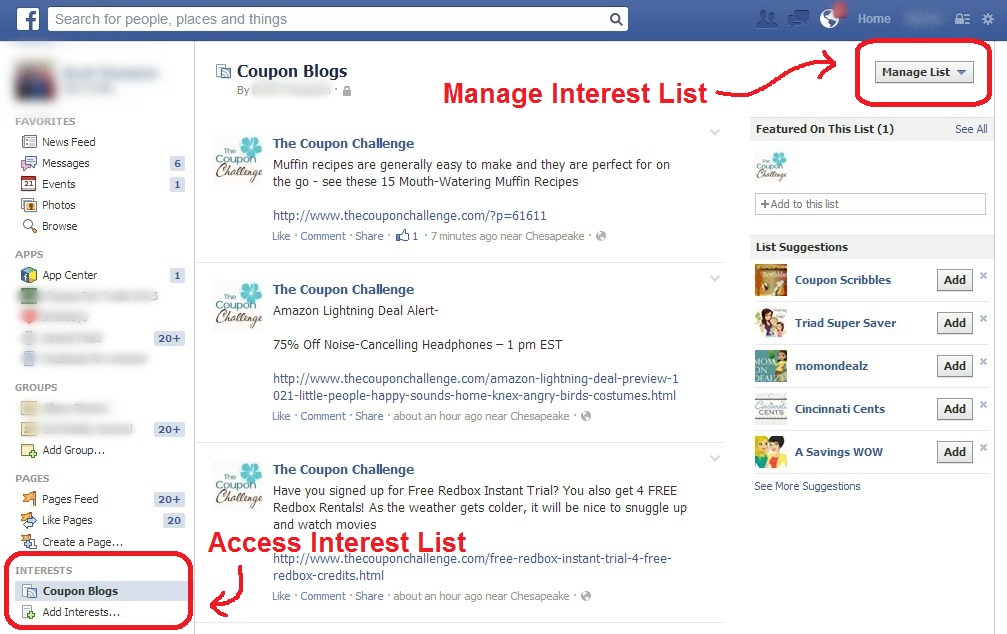 7. You can access your new 'Coupon Blog' Interest List from your Facebook Sidebar near the bottom under "Interests". When you pull it up, you'll see a Newsfeed dedicated to all the awesome deals posted by The Coupon Challenge! Never miss a great deal again.
8. Lastly, if you find that you want to add (or remove) a Page from your list, you can always go to "Manage List"  at the upper right hand corner of your "Coupon Blog" Interest List and follow the steps again. You can also hover over any Page's "LIKE" button and add them to your list that way, too.
Seriously, I am usually scanning my "Coupon Blog" Newsfeed (thanks, Facebook on my phone) before my feet get out of bed each morning 😀 Its so exciting to see all the great deals listed in one place.
Do you have any great tips for keeping up with all the great deals? Share any ideas you have below – we can all help each other save 😀