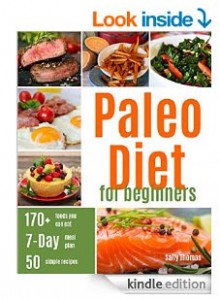 Hurry over and grab Paleo Diet For Beginners: Ultimate Guide for Getting Started, including a 7-Day Paleo Meal Plan & 50 Paleo Recipes
for FREE! Download this and many other books for your Kindle, Kindle app or more.
The paleo diet isn't just a fad diet – it's a great way to eat in order to lose weight and improve your health. You will enjoy better digestive health, more energy, and a host of other positive changes, including lowering your risk for many serious health conditions such as diabetes, heart disease, cancer, and others.
Paleo Diet For Beginners will show you how to focus on foods that are low in carbohydrates and high in protein all while avoiding all processed foods as well as foods that have been known to cause weight gain or hamper weight loss. And you will be pleased at how non-restrictive the Paleo diet is, as you will discover 170+ foods you CAN eat along with 50 paleo recipes for breakfast, lunch, snack, and dinner.
Also included is a sample 7-Day Paleo Meal Plan to help you get started the right way and show you how easy it can be.
Paleo Recipes include:
Blueberry Walnut Muffins
Chocolate Chip Banana Pancakes
Tropical Fruit Smoothie
Creamy Egg Salad
Spicy Guacamole
 Mini Meatballs
Fried Zucchini Fritters
Fudge Chocolate Brownies
Don't have a Kindle?

This ebook is specifically for Kindles. However, you can download a free application which enables you to read Kindle ebooks on your computer, iphone, Android, Blackberry, iPad and more.
Need a Kindle?
Why pay for books when you can get them free? See more FREE ebook offers!
Product prices and availability are accurate as of the date/time indicated and are subject to change. Any price and availability information displayed on amazon.com at the time of purchase will apply to the purchase of this product.