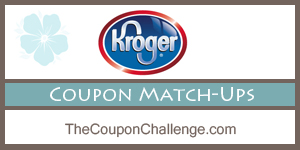 Kroger Mid-Atlantic Sale Ad Coupon Mathups have been updated! Please visit the Kroger sale ad coupon matchups page to view the entire list of deals that start today.
Local Kroger stores no longer double coupons!
Printable coupons over $1 value are not accepted
Limit of 3 like coupons per transaction
Bring your reusable shopping bag to save $0.05 off each bag
Buy 5 & save $5 Instantly; Mix and Match; Final Price Reflects $1.00 Savings on each Item.
Baby Food & Care
Buy 5 Save $5 Instantly; Final Price Reflects $1 Savings Per Item
Huggies Diapers – Prices vary
Includes: Select varieties; Big or Mega Packs
Huggies Pull-Ups Training Pants – Prices vary
Includes: Select varieties; Big or Mega Packs
Condiments, Spice & Baking
Buy 5 Save $5 Instantly; Final Price Reflects $1 Savings Per Item
Herdez Enchilada Sauce, 28 oz – Prices vary
Includes: Select varieties
Skippy Peanut Butter, 15 – 16.3 oz – Prices vary
Includes: Select varieties
Home Supplies
Buy 5 Save $5 Instantly; Final Price Reflects $1 Savings Per Item
Purex Liquid Laundry Detergent – Prices vary
Includes: Select varieties
Packaged Meats
Buy 5 Save $5 Instantly; Final Price Reflects $1 Savings Per Item
Hormel Natural Choice Bacon – Prices vary
Includes: Select varieties
Personal Care
Buy 5 Save $5 Instantly; Final Price Reflects $1 Savings Per Item
Aussie Shampoo or Conditioner – Prices vary
Includes: Select varieties
$3.00/2 Aussie Shampoos and Conditioners – 12-6-15 RP; Excludes Trial and Travel Size; Limit of 4 Identical Coupons Per Household Per Day (exp. 01/02/16)

Stacks With 

$15.00 Prepaid Card P&G Beauty Products Purchase of $50 or More – Mail in Rebate; Includes CoverGirl, Pantene, Secret, Ivory, Herbal Hair + Body Wash, Aussie, Clairol, Safeguard, Olay Skin, Olay Body, Head & Shoulders, Old Spice, Vidal Sassoon Color and Venus Products; Rebate Applies To Price Paid After any Coupon or Discount Has Been Applied (exp. 12/31/15)
Clairol Herbal Essences Shampoo or Conditioner, 8 – 13.5 oz – Prices vary
Includes: Select varieties
$3.00/2 Herbal Essences Shampoos and Conditioners – 12-6-15 RP; Excludes Trial and Travel Size; Limit of 4 Identical Coupons Per Household Per Day (exp. 01/02/16)
Herbal Essence Hair Styler – Prices vary
Includes: Select varieties
$1.00/1 Herbal Essences Styling Product – 12-13-15 SS; Excludes Trial and Travel Size; Limit 4 Identical Coupons Per Household Per Day (exp. 01/09/16)
Pantene Pro-V Shampoo or Conditioner – Prices vary
Includes: Select varieties
$1.00/2 Pantene Products – 12-13-15 SS; Excludes Trial and Travel Sizes; limit 4 Identical Coupons Per Household Per Day (exp. 01/09/16)

$1.50/1 Pantene Styler or Treatment Product – 11-29-15 PG; Excludes Trial and Travel Size; Limit of 4 Identical Coupons Per Household Per Day (exp. 12/26/15)

$2.00/2 Pantene Products – 11-29-15 PG; Must Include Shampoo and Conditioner or Styler; Excludes Trial and Travel Size and 6.7 oz; Limit of 4 Identical Coupons Per Household Per Day (exp. 12/26/15)

$4.00/2 Pantene Products – 12-13-15 SS; Excludes Trial and Travel Size; Limit of 4 Identical Coupons Per Household Per day (exp. 12/27/15)

$5.00/3 Pantene Products – 11-29-15 PG; Must Include Shampoo and Conditioner or Styler; Excludes Trial and Travel Size and 6.7 oz; Limit of 4 Identical Coupons Per Household Per Day (exp. 12/26/15)

Stacks With 

$15.00 Prepaid Card P&G Beauty Products Purchase of $50 or More – Mail in Rebate; Includes CoverGirl, Pantene, Secret, Ivory, Herbal Hair + Body Wash, Aussie, Clairol, Safeguard, Olay Skin, Olay Body, Head & Shoulders, Old Spice, Vidal Sassoon Color and Venus Products; Rebate Applies To Price Paid After any Coupon or Discount Has Been Applied (exp. 12/31/15)
Playtex Gentle Glide Tampons – Prices vary
Includes: Select varieties
$2.00/2 Playtex Gentle Glide Tampons – 11-15-15 SS (exp. 12/27/15)