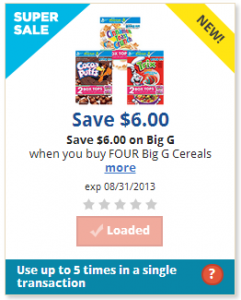 WOW! Make sure you load this Save $6.00 on Big G when you buy FOUR Big G Cereals coupon to your Kroger Card and head to your local Kroger to grab this deal fast:
DEAL IDEA
Buy 20 Big G Cereals @ $3.49 = $69.80
Get: $20.00 off instantly with the Big Deal Promo = $49.80
Use:  $6.00 off 4 Kroger Digital Coupon (minus $30.00 – comes off 5 times)
Total: $19.80 for 20 Boxes ($1.99 each)
Some areas are reporting that their cereal is on sale for $2.49 – making this deal even better! But the ad I saw on Sunday says $3.49. Still not a bad way to stock up on back-to-school cereal.
Thanks, My Litter!