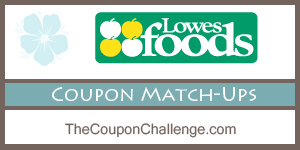 The Lowes Foods Coupon Matchups are done! Please visit the Lowes Foods Coupon Matchups Page for the complete list of deals.
Double up to 20 manufacturer coupons with a face value of $0.99 or less per day.
Any manufacturer coupon that states -Do not double- will not be doubled.
No cash back will be awarded.
Limit redemption to 4 like coupons.
Digital coupons and paper coupons for the same item may not be combined in the same transaction.
FREE Product printable coupons are not accepted. B1G1 Free printable coupons are accepted.
Accept competitors coupons for dollars off the entire order. Does not accept competitors coupons for savings off specific items.
See the Lowes Foods Coupon Policy.
B1G1 Sale Prices Based on Purchasing a Single Iten
B1G1
Sweet Baby Ray's Barbecue Sauce, 18 oz – $1.00
$1.00/3 Sweet Baby Ray's Barbecue Sauce – 5-20-18 SS (exp. 06/30/18)

$1.00/4 Sweet Baby Ray BBQ Sauce – 5-20-18 SS (exp. 06/30/18)
Final Price: $0.67
B1G1 pricing for a single item. Regularly priced $2.00.
Beverages
Tang Drink Mix, 6 – 8 qts – $2.00
$1.00/4 Country Time or Tang Drink Mix – 4-22-18 SS (exp. 06/03/18)
Final Price: $1.75
Breakfast & Cereal
Kellogg's Cereal, 8.7 – 12 oz – $2.00
Must buy 4
Final Price: $1.00
Kellogg's Pop Tarts, 8 ct – $1.66
Final Price: $1.06
Dairy
Muuna Cottage Cheese with Fruit, 5.3 oz – $1.25
Final Price: $0.75
Sargento Natural Cheese Slices, 6.67 – 8 oz – $2.50
Final Price: $1.00
Frozen Foods
Grown in Idaho Potatoes, 23 oz – $2.50
$1.00/1 Grown in Idaho Potatoes – 2-25-18 SS (exp. 05/25/18)
Final Price: $1.50
Kraft Cool Whip Whipped Topping, 8 oz – $1.25
Final Price: $0.25
Home Supplies
Cottonelle Bath Tissue, 6 mega or 12 dbl rolls – $5.74
$0.75/1 Cottonelle Toilet Paper – 5-20-18 SS; Includes 6 ct or Larger Only (exp. 06/09/18)
Out-of-Pocket Price: $4.24
Final Price: $3.74
Viva Paper Towels, 6 Big Rolls – $5.74
$0.75/1 Viva Vantage or Regular Paper Towels – 5-20-18 SS; Includes 6 pk or Larger Only (exp. 06/09/18)
Final Price: $4.24
Packaged Meats
Butterball Turkey Bacon, 12 oz – $2.69
Final Price: $1.59