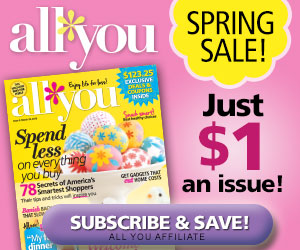 All You magazine is having a Spring Sale! Get 12 issues of ALL YOU for just $12. Find hundreds of coupons and seasonal saving tips. No Code needed.  I realize this isn't as good of a deal as last month but if you missed out – this is still a good price.  Way better than buying at the store!
Offer expires April 30, 2014
New to All You Magazine?

All You is full of high-value manufacturer coupons. The value of coupons in each issue far outweighs the cost of the magazine itself. You will more than make your money back in coupons with each issue. Not only is the All You Magazine filled with money-saving coupons; you'll find budget advice, success stores/tips, affordable clothing and more!