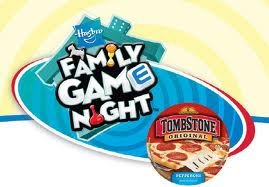 If you're heading to Walmart or Toys R Us, look for Hasbro game rebates.  These rebates are found in both stores nationwide.  Get a FREE tombstone pizza (up to $7.01) when you purchase any Hasbro game.  You'll get a coupon for a FREE tombstone pizza via mail.  Purchase must be mail between 02/25/11 and 04/30/11.  Get up to 5 free Tombstone coupons.  You can also print the rebate form here
Hasbro games include Milton Bradley and Parker Brothers.
While you're at Walmart, look for a $5 rebate on the Coors display.  Get $5 back when you purchase 2 DiGiorno pizza's!
Thanks, Tracie!