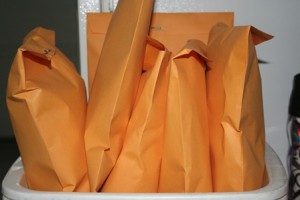 We wanted to post another "Thank You" to all those who attended the first Coupon Meet held by The Coupon Challenge, Mom on Dealz and A Frugal Chick. We were blown away with all the expired coupons everyone brought to donate to Military families overseas. The coupons weighed right at 15lbs! Now, that is a LOT of coupons to be put to good use.
The coupons collected from the Virginia Beach Coupon Meet were mailed to:
Family Services/Airman & Family Readiness Center
Attn: Vic Villarreal
100 FSS/FSFR
Unit 4925 Box 280
APO AE 09459
Military bases overseas will accept expired grocery coupons up to six months past their expiration date. Please make sure coupons are only expired by a couple of months when mailing to allow for the coupons to be distributed and used by Military families. Don't forget that you can also send non-expired coupons as well. It is also requested that coupons be organized into categories for easier handling.
*Registration is currently open for the Yorktown Coupon Meet on August 6, 2011. Please head to THIS post to find out more information.
Find more addresses at Coupon Mom