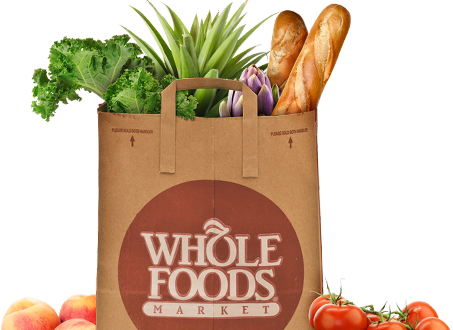 Congratulations to winner Cristin!
I ate my first ever mango at Whole Foods last week.  Yes, I am 30 (well, something) and just tried a mango.  Sad, I know.
Whole Foods has a big Mango Promo going on right now, so I went up to my local Whole Foods Market and learned all about this delicious fruit.  Whole Foods currently has 2 varieties of mangoes in-stock, but there are actually 6 different varieties that you can find throughout the year.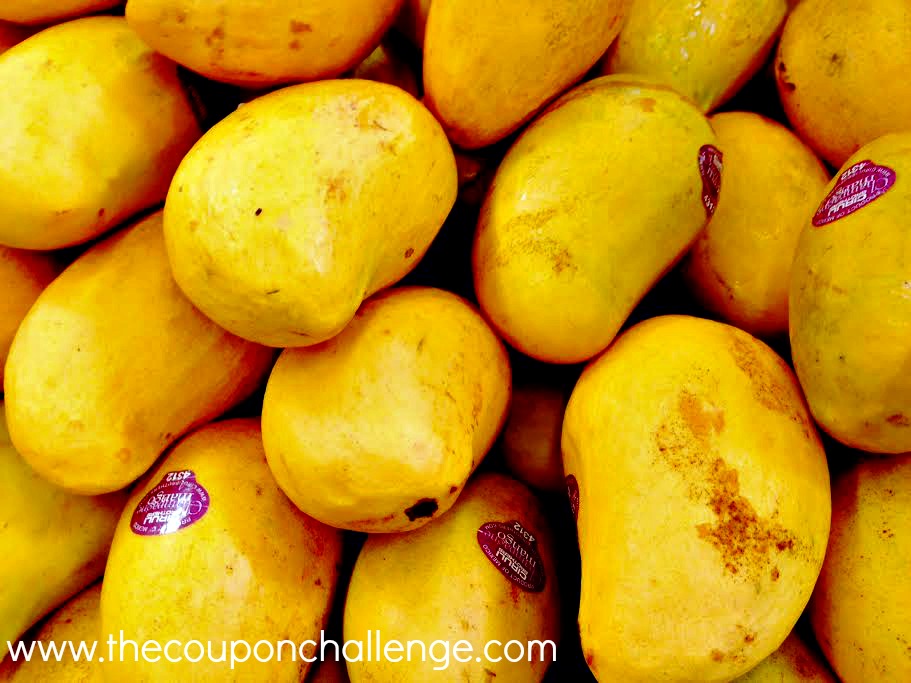 Champagne Mangoes (also called yellow, Ataulfo, manila and honey)  are my favorite.  Locally, these mangoes can be found in-store March and April.  Champagne mangoes are small, yellow, super sweet and lack the fibers found in other varieties.   The sweet flavor and lack of fibers is actually why I preferred this type.
So how do you select the best champagne mango?  These mangoes are ripe when they are a darker yellow and have a bit of "give" when you test the firmness.   These mangoes may also look a but wrinkled when fully ripe, so don't let that deter you.  It's also likely to have some imperfections in the skin.  I'm not saying a smooshy dark spot is okay, just note that the skin won't be a perfect yellow color.  The mango I tasted has some brown staining, if you will, but was perfectly fine inside. You can see examples in the image above.
*Note – this isn't organic.  Look for a similar organic variety called the Francique Mango coming soon.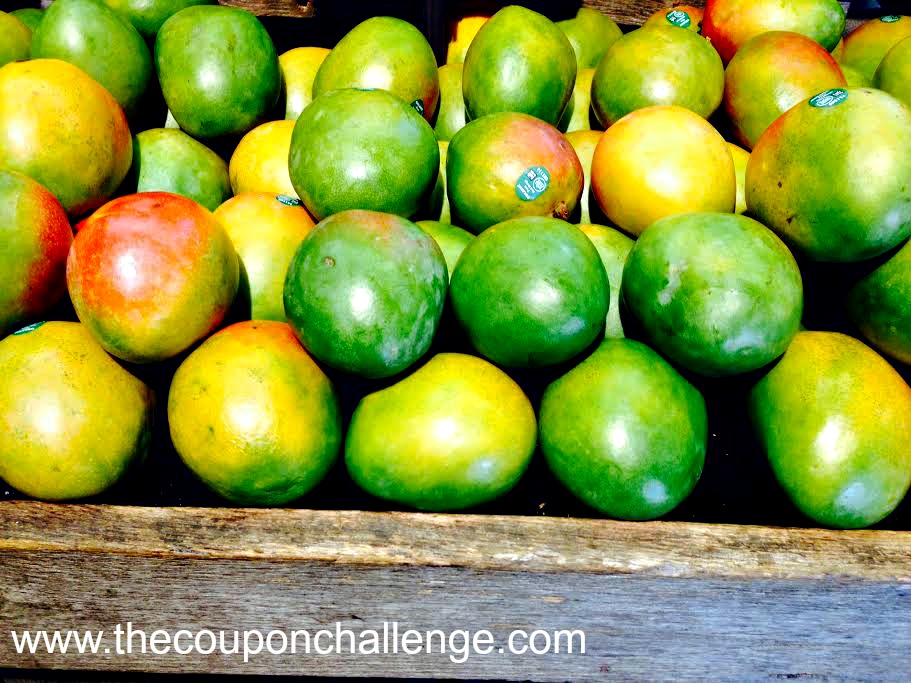 Kent Mango is the 2nd type of mango I tasted.  This is the variety I'm used to seeing in stores and it is an organic, Whole Trade variety.  The Kent mango isn't as sweet as the champagne variety.  It's more sweet instead of super sweet (if that makes sense.)  These come in a variety of colors that doesn't dictate ripeness. However, you'll see more yellow undertones as the mango ripens.
Look for Kent mangoes with a broad "shoulder" on the top.  It should also have a lot of "give" when tested (gently!) for firmness.    These mangoes have a bit more fibers in them, but the flesh is still tender.
I learned another mango tip that you should know – don't refrigerate mangoes!  Glad I was told this or I would have thrown it in the fridge as soon as I got home!
I also learned an interesting fact about the Whole Trade mangoes.  If the farmer sells the tree for charcoal, he/she will make approximately $38 one time.  Selling the fruit on the tree to a middle man will yield $15 annually, but selling the fruit to a Whole Trade group nets $75 annually.  That is a huge difference!
Taste Test:
I wanted to know which variety of mango my family preferred – Champagne or Kent.  I've already mentioned that I prefer the champagne.   LuLu and hubby also preferred the champagne.  Monkey said he liked both equally.  Monkey's friend was over during the taste test and he agreed with the other family members that champagne is the best.  We have a clear winner!  That is not to say that the kids didn't eat all the mango I had cut on the table, including the Kent!  Which variety do you prefer?
Recipes:
Whole Foods Market has a ton of mango recipes available for you to try.  I haven't made any yet as our mangoes didn't last long enough – the kids attacked them!  I also used the remaining (very small) amount in my morning smoothie.
Make sure you also see all for the Whole Foods Market Sales here before you head to the store to purchase your mangoes!
The Giveaway
Want to win a Whole Foods Gift Card to try mangoes yourself?  One (1) winner will receive a $75 Whole Foods Gift Card!
The winners will be selected at random.  The winners will be contacted via email after the close of the giveaway. The winners will have 24 hours to respond to my email or a new winner will be selected. Entry for this giveaway will close on April 1st at 8pm EST.
**Leave a separate comment for each entry method!  Mandatory entry MUST be completed.
Mandatory Entry Method:
Leave a comment here telling me your favorite mango recipe (you can also select one HERE.)
Extra Entry Methods:

– Subscribe via
email feed
(must be verified).
Leave a comment letting me know you subscribe.
– Blog, post in your facebook status, or tweet about this giveaway. Leave a comment telling me how you've spread the word about the Whole Foods Market $75 Gift Card Giveaway. (You may choose 1 or all 3 methods)

Tweet: #Win $75 Whole Foods Gift Card to try delicious mangoes @CouponChallenge @WholeFoods http://bit.ly/1gyomeJ
**Please note that this is an egift card, so you will need to be able to show the gift card on your phone or print it out!!
Disclosure:  I received a Whole Foods Gift Card to facilitate this post.  No other compensation was received.  All opinions are 100% my own and may differ from others.