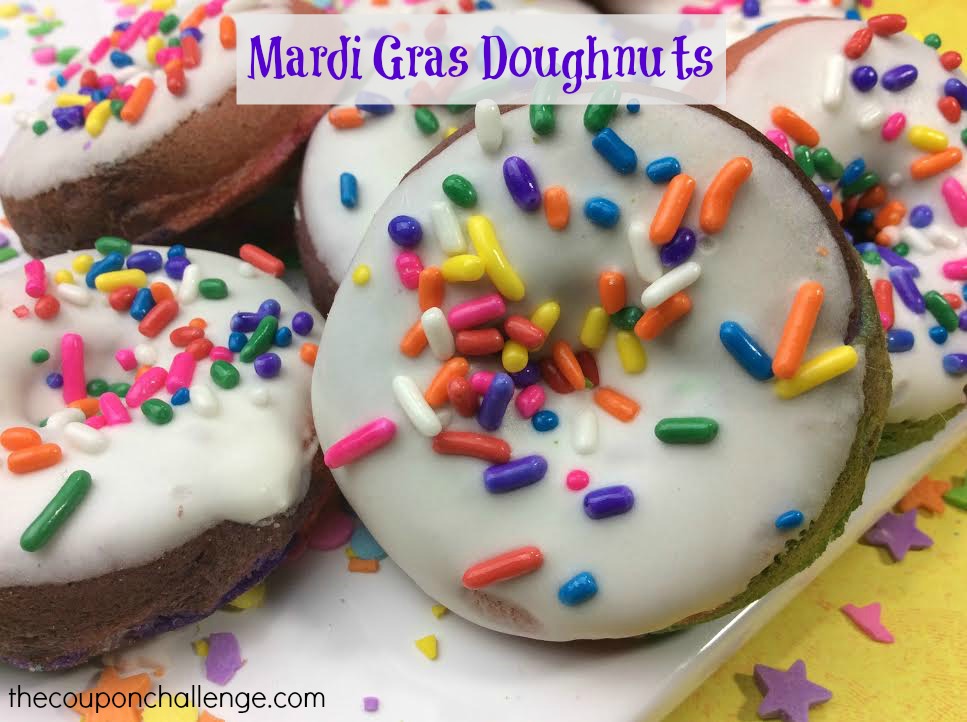 Make a fun treat for your Fat Tuesday party with this Mardi Gras doughnuts recipe.   What better way to enjoy doughnuts than in fun colors?  You can also make your own homemade glaze and top with sprinkles if desired.
What is Mardi Gras? Mardi Gras refers to events of the Carnival celebrations which begin on or after the Christian feasts of the Epiphany also known as Three Kings Day.   It reaches the peak on the day before Ash Wednesday.   In the US, the most notable celebrations occur in New Orleans arriving in North America as a French Catholic tradition.
Ingredients
1 French vanilla cake mix
1 Stick of unsalted sweet cream butter
1 Cup whole milk
3 Eggs
1 Mini Doughnut maker
pink, purple, green and blue gel colors
4 Bowls to split the batter into four colors
Rainbow sprinkles
Doughnut Glaze Ingredients:
2 C powder sugar
1/4 C milk
1 tsp vanilla
Doughnut Directions:
1. Turn on the mini doughnut maker and let preheat while you make the batter.
2. Using a stand up mixer, combine the cake mix, butter, eggs, and milk and mix until combined.
3. Using four bowls, split the batter up evenly into the four bowls.
4. Put 1 color into each bowl and mix until combined
5. Take a small spoon and scoop some of each color into the bottom of the mini doughnut maker.
6. Bake until they are golden brown, about 3-6 minutes.
7. Repeat until all batter is used.
8. Set aside to cool while you make the doughnut glaze.
Doughnut Glaze Directions
1. In a medium bowl, combine all ingredients and mix until combined
2. Take a cooled doughnut and dip the top of the doughnut into the glaze
3. Place onto the plate and sprinkle with rainbow sprinkles.
Do did you make any changes to this Mardi Gras doughnuts recipe?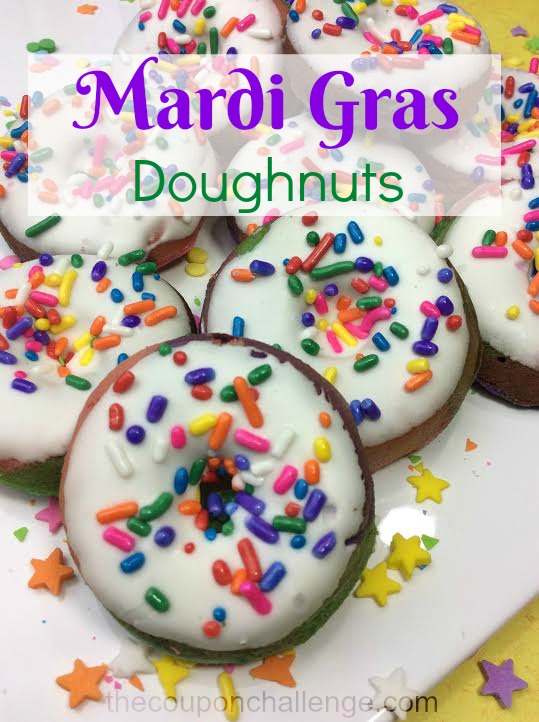 You might also like our recipe on how to make homemade glazed donuts.